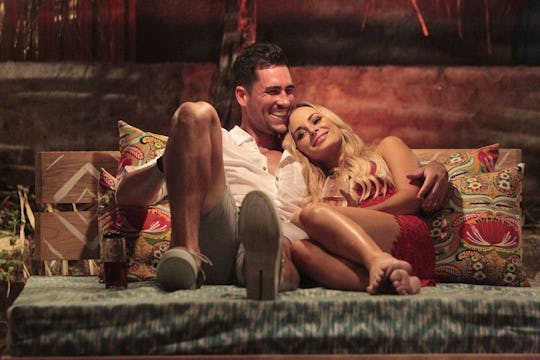 Rick Rowell/ABC
Why Does Amanda Like Josh On 'Bachelor In Paradise?' Let's Take A Look At The Facts
Even with "The Chad" gone, drama is definitely brewing at the Bachelor in Paradise resort. Always a bridesmaid Nick Viall took single mom Amanda Stanton out on a lovely first date, but was then stymied once again by his old rival Josh Murray, who won Andi Dorfman's season of The Bachelorette while Nick finished runner-up. Then Josh arrived, and promptly asked Amanda out on a date, and she accepted, and now the two seem permanently glued to one another's faces. Those of us who remain a little apprehensive of Josh following Andi's less-than-flattering portrayal of him in her book, It's Not Okay, are left wondering why does Amanda like Josh on Bachelor in Paradise? Is he that charming in person?
Pretty much all parties involved have agreed that the love-triangle portrayed on the show was heavily manufactured by producers with some very liberal use of creative editing. On her blog, Amanda clarified that she and Nick had already discussed that they were both going to date other people. He apparently told her that he was looking forward to getting to know her and Leah Block better, and was excited for Jen Saviano to arrive, which is why she had no problem accepting when Josh asked her out on his date. This still doesn't explain what exactly she digs about him though.
Probably aware of the fact that Amanda might have some preconceived notions about him because of his ex-fiancé Andi's book, Josh made the bold move of addressing the stories about him head-on. He basically tells her that everything in the book was completely untrue, and Amanda has no more questions. OK. I can only assume that their physical chemistry must be completely off the charts. This must also be the reason that she seems to have no problem with the borderline obscene grunts and moans Josh makes while playing tonsil hockey.
Spoilers ahead — If the multiple paparazzi photos of the two of them together are to be believed, Josh and Amanda are still very much a thing and probably one of the "multiple engagements" promised to occur by the end of the show. Amanda's split with her ex-husband was amicable, though she once admitted to Ben Higgins on The Bachelorette that he "wasn't always the nicest person to me," something Andi Dorfman more or less said about Josh (though with a bit more vehemence). Hopefully, this relationship will all work out for the best, and Josh and Amanda will live happily ever after.