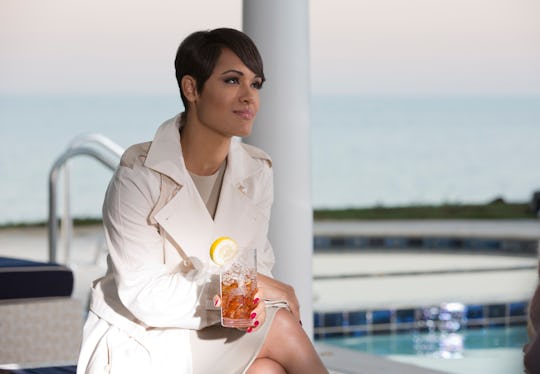 Chuck Hodes/Fox
Why Does Anika Need To Testify On 'Empire'? There's One Way Out
Lucious Lyon kicked off Season 2 of Empire in prison for Bunkie's murder, and it looks like he's in danger of winding up back in police custody before the season is over. Philly cop-turned-FBI agent Tariq Cousins has been sniffing around Empire looking for evidence of Lucious' host of crimes, and we finally caught a damning glimpse of him about to question Anika. But why does Anika need to testify on Empire and why does it lead to a precarious moment hanging off the ledge of a balcony?
Now that Freda Gatz is in custody for shooting Jamal Lyon — with a bullet that was meant for Lucious — her motive will presumably come out in exchange for a plea deal. Freda gives the FBI a direct tie to the information that Lucious had her father, Frank Gathers, killed in prison. As the FBI is compiling their investigation on Lucious, Anika is probably privy to a ton of information on him, considering she used to be his fiancée. We see her getting served with a subpoena to testify in the finale promo after her initial questioning.
While Anika probably has a dozen reasons to burn down the Empire after the way Lucious and the whole Lyon family treated her, her position is complicated by the fact that she's carrying the heir to the Empire. If Lucious goes down, the whole company and its legacy goes down with him, leaving nothing for Anika's baby. And this is all happening just as she's been welcomed back into the flock and gaining back the family unit she's been scheming to secure all season.
Anika desperately wants to get out of testifying — so badly that we see her contemplating suicide in the Season 2 finale, perched on the balcony outside Hakeem's office. We also see her admitting to Cookie and Lucious that she's been compromised by Tariq. They try to find a way to shield her from testifying, but the most obvious choice? It's for Anika to marry Lucious.
If Anika is Lucious' wife, she can invoke spousal privilege and can't be compelled to testify. The season finale does tease a wedding, and it might not be Hakeem and Laura's after all. While the promo implies that Cookie and Lucious are the ones who get back together (and Cookie could surely use that spousal privilege herself, if she, too, is called to testify against Lucious), what if Anika's subpoena sets the ball rolling on a wedding between her and Lucious? Marrying the grandfather of the child she's carrying is juuust skeevy enough to make sense on Empire.