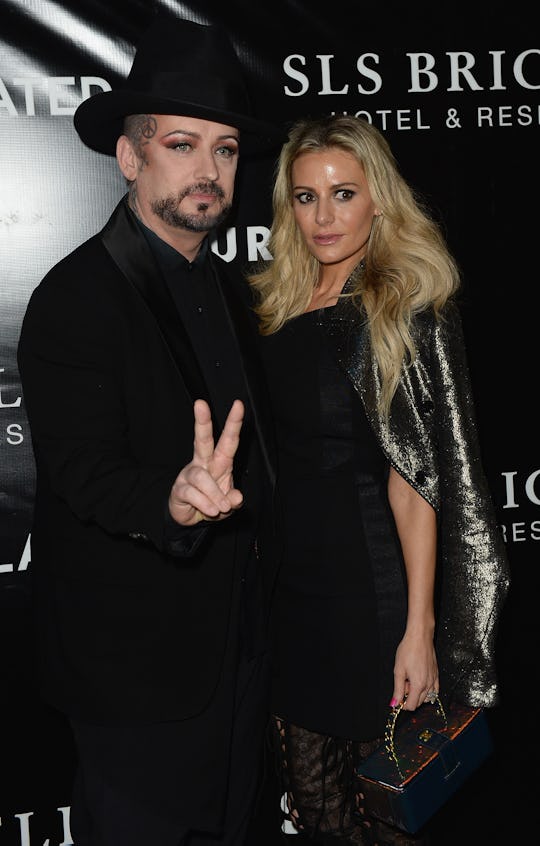 Gustavo Caballero/Getty Images Entertainment/Getty Images
Boy George Is Very Close To Dorit Kemsley
On The Real Housewives of Beverly Hills, Dorit Kemsley is living some bizarro version of Full House, complete with her husband, two kids, countless nannies, assistants, and Uncle Joey – sorry, Boy George. While living with an '80s icon is surely a lot more fun than living with a washed-up comedian with a woodchuck puppet, it is similarly inexplicable. Dorit's husband PK is Boy George's manager, which is likely how he became a friend of the family, but that doesn't answer one very important question: why does Boy George live with Dorit Kemsley?
It seems like it's not a full-time situation, though Boy George does live with the Kemsleys for months at a time. He splits his days between Los Angeles, London, and wherever else his career takes him, but when he's in L.A. he always has a place in Dorit and PK's home. "Georgie is family," Dorit told Metro. "My husband and I manage him, but he's also my daughter's godfather. When he's in Los Angeles, he lives with us. He goes back and forth to London, but over the last few years, he has stayed with us for up to four to six months at a time. This is definitely home. We love him and he's like family. It's pretty extraordinary having Boy George living in your house."
From the way Dorit talks about George, it's clear he's part of the family in just about every way possible. In a blog post for Bravo, she called him a "staple in our lives and in our home" as well as "a beautiful person and very talented musician." As a friend to Dorit and PK and a godfather to their nine-month-old daughter Phoenix, he's integral to the crew. PK even relies on Boy George for clothes, according to Dorit; George apparently keeps a good portion of his fantastic wardrobe in their home, and PK "rummages through his clothes more often than you would expect."
And while they may have their difficulties from time to time, and there are some diva moments, Boy George is still as close as can be to Dorit and PK. In the Season 7 premiere, Dorit described George as being "like a sister, maybe not so much – he is more like a husband, but more like a really, really fun gay husband."
But Dorit has also said that "some of the funniest and most treasured moments that both PK and I have experienced in our lives have been with our Georgie." So while their living situation may be unusual, it seems to work for everyone involved.