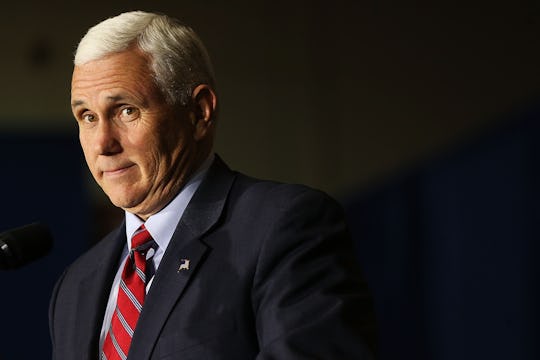 Spencer Platt/Getty Images News/Getty Images
Why Does Mike Pence Want His Emails Secret? One In Particular Has Him Worried
Another email controversy has erupted and it doesn't involve Hillary Clinton or the FBI. An Indianapolis Star article revealed on Monday that Vice President-elect Mike Pence wants to keep his emails secret and one in particular appears to have him a bit worried. The email the former Indiana governor wants to keep under wraps reportedly exposes Indiana's participation in a lawsuit, which was supposedly given the OK by Pence, that attempted to stop President Barack Obama from using his executive power to "fix America's broken immigration system." That executive action exempted certain undocumented immigrants in the United States from immigration laws if they entered the country before they were 16 years old, or if they were parents of children born in the United States.
According to Indianapolis Star article, the content of the email in question — which Pence and his administration are fighting to conceal as it may reveal that Indian taxpayers footed the bill to hire outside counsel — is being sought after by a prominent Democratic labor lawyer in Indianapolis who "wants to expose waste in the Republican administration."
But keeping the email's content a secret and off-limits to the public opens a dangerous can of worms that might take away a citizen's right to know what the government is doing in general and what it's doing with tax dollars, especially when it involves a heated topic like immigration laws and reform.
"I think governmental transparency is an important concern of anyone who lives in a democracy – the governor cannot put himself above the law," the Indianapolis attorney, William Groth, told the Indianapolis Star. "
Groth, who requested information on the decision to bring in outside counsel back in December 2014, continued, "I think joining the lawsuit without the attorney general and hiring that firm was a waste of taxpayer dollars and the people have the right to know how much of their money was spent."
According to the Indianapolis Star article, Pence did produce the requested documents in a 57-page response, "but those documents included substantial redaction." Included in the response was an email sent by Daniel Hodge, Texas Gov. Greg Abbott's chief of staff, asking 30 recipients in various states to join the lawsuit against Obama.
Politico reports that Pence's yearlong effort to keep the email away from the public have so far been upheld by state courts. The Indiana Court of Appeals will hear arguments from both sides on Nov. 21.
If the court decides to rule in favor of Pence's argument, it might set a dangerous legal precedent that could restrict what is allowed to be excluded and redacted from public records and documents.
Pence's efforts to keep this email away from the public eye comes less than a week after his former running mate and current president-elect, Donald Trump, defeated Hillary Clinton in a shocking outcome. A sense of irony looms over the news that the vice president-elect wants to hide his emails, as his rival's campaign was ruthlessly hounded after for how she handled a private email server during her tenure as Secretary of State. In fact, just last month, Pence demanded that longtime Clinton aide Huma Abedin release her emails as well.
It's too soon to tell whether or not the entirety of the email in question will eventually be released. For now, it's one more thing plaguing the incoming administration.