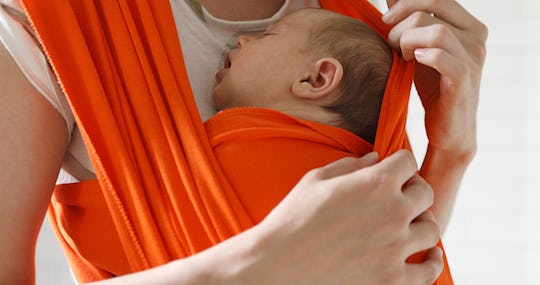 demphoto/Fotolia
Science Says It's Not Surprising Why Your Baby Sleeps So Well Wrapped To You
Carriers are pretty much standard on baby registries nowadays, and the wrap style is more popular than ever. And it's no wonder — if you've ever used one, you know how magical the strange contraptions can be. Yes, they have a pretty steep learning curve and can be a pain in the butt in the beginning, but once you get your little bundle snuggled in? It's like you hit "mute" on your screaming infant. They settle down, they rest, and boy howdy do they sleep. But, why do babies sleep better in a wrap?
As it turns out, the same reason babies sleep so well when swaddled is amplified in the wrap-style sling, according to manufacturer MOBY Wrap. They dub it "a womb with a view," because not only is your baby all tucked up in a cozy position similar to which they experienced when they were in-utero, they also get your warmth and heartbeat, and the benefit of the constant motion they experienced on the inside. It's natural for your baby to become calm when you pick them up and hold them in your arms, but the wrap goes one step further by supplying a landing zone for them nearest to all the smells, sounds, and warmth they'd become acclimated to.
When I first got pregnant, my husband's grandmother (who raised him) took me into her cavernous bedroom and pulled out two huge boxes. One was filled with pictures of my husband in all his crazy haired-baby glory, and the other was full of what looked to be beautiful silk. There was one that had been hand-embroidered with the Li patterns from her native Hainan, and the other was a stretchier linen-type material, about 10 feet long, 4 feet wide, and well loved. I had no idea what they were until she started wrapping the long linen around me, pointing to the center saying "baby here." She then showed me pictures of her carrying my husband all over Brooklyn, his drool-y, sleepy head propped on her chest, dead to the world.
While I didn't wrap my son in the family heirloom, I did buy several wraps and carriers for my kids. I started with the the long wrap that was one continuous piece of stretchy fabric, and moved to a Mei Tei style carrier as they gained head and neck support. It was one of my kids' favorite places to nap, and they slept well. But why do babies sleep so well in a wrap?
As per the Women's and Children's Health Network, the way wrapping settles a baby's limbs allows for close, intimate contact between parent and child, which helps to soothe the baby's restlessness, and can even help colicky babies find peace by preventing the random movements and reflexes babies experience that may jostle a resting newborn.
There are some safety concerns when it comes to wrapping your little one, however. The Mayo Clinic urged parents to make sure that they're frequently checking on their little one and they cautioned against using the over-the-shoulder sling style wrap. Check with your manufacturer and pediatrician to make sure that you're using the wrap correctly, and that your baby has plenty of clearance between their face and your body or the wrap to breathe easily.
After that, live your life. Seriously. Be careful how you bend, and what you do, but I've prepared dinner (not cook, just chopping and dicing), gone shopping, vacuumed, taken the train, and played with my older child all while my little one slept away or cozied up in the wrap. They are honestly one of my favorite baby shower gifts to give because they're so indispensable for something so affordable. And as you know, or will find out soon enough, baby sleep is precious — they just love sleeping in a wrap.