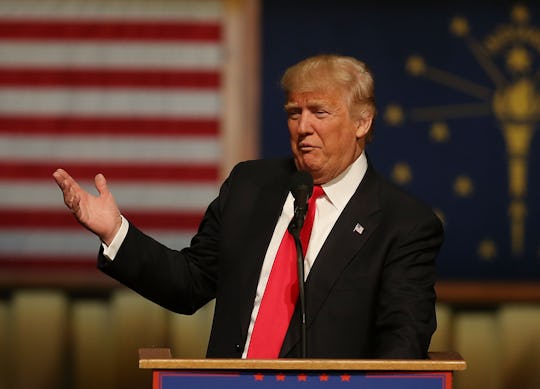 Joe Raedle/Getty Images News/Getty Images
Why Does The Indiana Primary Matter? It Could Be A Big Night For Trump, Unfortunately
On Tuesday, many Indiana residents will head to the polls to vote in the 2016 presidential primaries. And while Indiana is the only state holding an election on May 3, that does not make the state's primary any less important. In fact, most of the candidates — including business mogul Donald Trump, Texas Sen. Ted Cruz, and Vermont Sen. Bernie Sanders — are hoping for a big win in the Hoosier State. But why is this primary so important? How many delegates are up for grabs and why does the Indiana primary matter?
On the Democratic side of things, Sanders is looking for — and needs —a big win against former Secretary of State Hillary Clinton and, according to CNN, it appears as though he may get it. The Clinton camp barely canvassed in Indiana — she didn't air a single television ad, she only opened five offices in the state, and she held just one rally — because she expects a loss. And, according to Clinton Spokesman Brian Fallon, the campaign's reasoning had a lot to do with the state's demographic makeup:
[Indiana] resembles very closely a lot of the states where he [Sanders] has had his biggest wins.
However, a recent projection poll — from NBC/Wall Street Journal/Marist University — actually placed Clinton 4-points ahead of Sanders in Indiana (i.e. too close to call).
On the Republican side, things are a bit more split, and far more "do-or-die." Why? Because Trump has a wide lead. Trump has won six straight primaries, and while Cruz was hoping to stop Trump in Indiana — in fact, Cruz has said the Hoosier state will decide "which path we should go down" — things are not looking great. The same projection poll which placed Clinton ahead in Indiana gave Trump a 15-point lead over Cruz.
What's more, since Trump has 1,002 of the 1,237 delegates he needs to win the Republican nomination, according to CNN, a Trump win in Indiana has the potential to knock Cruz out — or, as Trump put it, "it's over" for Cruz.
If we win Indiana, it's over. It's over. It's finished. They're gone.
Indiana has 92 Democratic delegates available while the Republican party has 57 delegates up for grabs, so it won't seal the deal for either Clinton or Sanders. Regardless of who wins, Indiana's election is sure to be an important one for both parties.