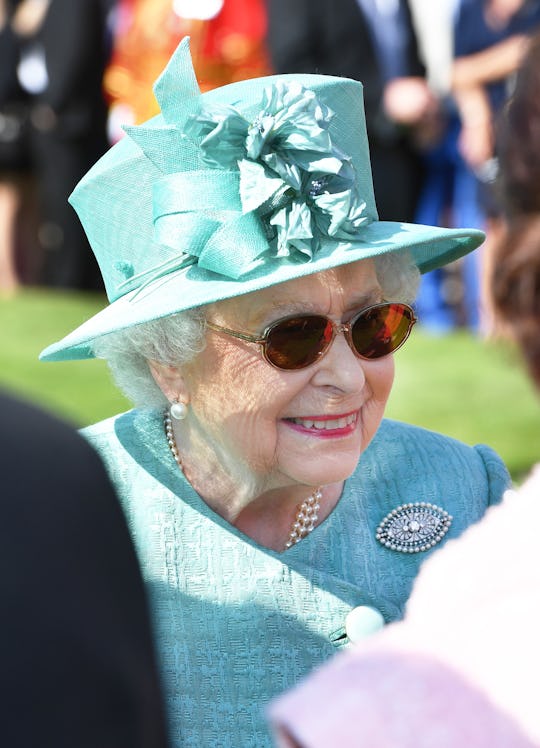 WPA Pool/Getty Images Entertainment/Getty Images
The Queen's Second Birthday — Yes, Second — Is Around The Corner, But Why Does She Have Two?
For some people, birthdays aren't really a big deal. For others (yes, me) birthdays are a fabulous excuse to have as much fun as you want and to be showered with gifts and cake just for being born. But for royalty, birthdays are probably even more spectacular than cheap sangria and dance-offs. But as one of Queen Elizabeth II's birthday celebrations draws near, despite her birthday being a month ago, many might be wondering one simple thing: Why does the queen have two birthdays? While she really only has one actual birthday, she'll be celebrating it for the second time in June.
Now, in case you don't remember, Queen Elizabeth II already had a birthday this year; she celebrated her 92nd birthday on April 21. But you might have also noticed that the queen is scheduled to celebrate another birthday this year, on June 9. So, why does the queen get two whole days of celebrations? Well, ya know, because she's a queen she doesn't really need an excuse to have a party in her honor, but there is an actual reason for the two separate occasions.
As the official royal family website explained: "The Queen celebrates two birthdays each year: her actual birthday on 21 April and her official birthday on (usually) the second Saturday in June." Basically, her "official" birthday more of a public affair while her "actual" birthday is celebrated in a more private manner.
What's more, having two birthdays wasn't even the queen's own idea. It's actually quite historical. According to the BBC, the two birthday tradition for the monarchy all began back in 1748, when King George II decided that his actual birthday in November wouldn't make for as fun of a celebration seeing as how the weather wasn't as reliable in the fall as it was in, say, the summer. So the king had to figure something out so that his birthday could be celebrated outside. As the BBC explained, King George took his actual birthday and "decided to combine it with an annual military parade in the summer, when the weather would hopefully be nice."
Since then, all British monarchs have taken a day in the summer to officially celebrate their birthday outdoors, with the public who can participate in the events. Typically, Queen Elizabeth's official birthday is celebrated with quite grandeur.
While her actual birthday is a whole other event, the queen's official birthday in June is celebrated with all of Great Britain. According to the official royal website, for the queen's official birthday she is "joined by other members of the Royal Family at the spectacular Trooping the Colour parade which moves between Buckingham Palace, The Mall and Horseguards' Parade as well as a public appearance on the balcony of Buckingham Palace."
The queen's official birthday is quite the celebration, with many members of the public gathering to honor her majesty and pay tribute to her reign. What's more, according to TIME, the official birthday parade for Queen Elizabeth will also feature "1400 soldiers, 200 horses and 400 musicians." So, yeah. It's a little more fabulous than a night out at a trendy bar with overpriced cocktails.
But that's to be expected. I mean, she is the queen, after all. For her actual birthday, though, the queen likes to keep things simple and private, although there are still some formal celebrations that happen on April 21. According to the royal website, the day is marked with "a 41 gun salute in Hyde Park, a 21 gun salute in Windsor Great Park and a 62 gun salute at the Tower of London."
Given royal tradition, Queen Elizabeth is expected to celebrate her official birthday as has been done for centuries now. But really, who could blame her for partaking in the festivities? When you're the queen, you truly get to live your best life, something Queen Elizabeth II has certainly mastered.