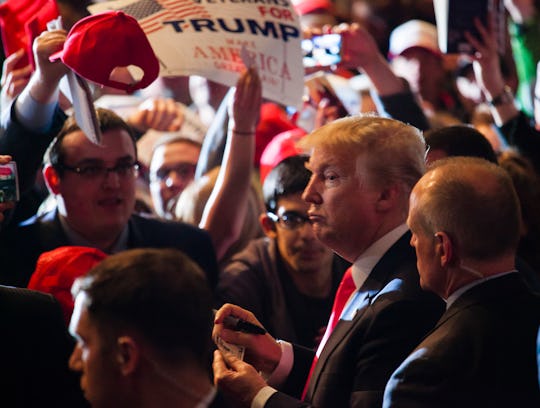 Darren Hauck/Getty Images News/Getty Images
Why Does The Wisconsin Primary Matter? It All Comes Down To Delegate Math
The Wisconsin primary is happening on Tuesday and — for the Republican candidates, at least — the results could bring about a real turning point in the nomination race. After a disastrous week for real estate developer and GOP front-runner Donald Trump, Texas Sen. Ted Cruz has eked out a slight lead in statewide polls heading into Tuesday, according to the New York Times. But whether Cruz can turn that popularity into primary votes has everyone guessing. Why does the Wisconsin primary matter for Republicans? The 42 delegates at stake in the Badger State could tip the delegate math towards a Trump victory — or place the party on a clear path towards a contested convention.
To back up a bit, the candidates in the Republican primary — that's Trump, Cruz, and Ohio Gov. John Kasich — need to secure at least half of the party's delegates in order to secure a nomination. As of Tuesday, Trump had 737 of the 1,237 delegates needed to clinch the party's nod, according to ABC News. Cruz and Kasich had 475 and 143 delegates, respectively, according to that same report. And while the 42 delegates up for grabs in Wisconsin seem like small potatoes, in a race as tight as the GOP primaries have been, every vote counts.
And that's literally every vote. According to one projection from the University of Virginia's Center for Politics, if he continues his current momentum, Trump could win by just two delegates. Another estimate by polling analysts at FiveThirtyEight had Trump losing the nomination by 29 delegates.
What really makes the Wisconsin primary a nail-biter for delegate-watchers is that Trump hasn't been doing too well in the Badger State this week. A new poll from Marquette University Law School found that Trump has just a 22 percent favorability rating among Wisconsin voters — that is to say that for some 70 percent of Wisconsin voters, the GOP front-runner was a decidedly unfavorable choice for president. And, according to that same poll, only 30 percent of Republican voters said they'd vote for the real estate developer. Wow.
By contrast, the Marquette poll had Cruz faring pretty well among Wisconsin voters, earning 53 percent support in greater Milwaukee and 43 percent in the state's other major markets.
So, that's why the Wisconsin primary is such a huge deal for the Republican candidates. According to Slate, those popularity figures would likely mean only a few Wisconsin delegates in Trump's favor when the polls close, and the majority going instead to Cruz.
With such a narrow margin for success in the race for delegates, a loss in Wisconsin would make it far less likely that Trump can seal the magic 1,237 number before the convention. And, of course, if there's no clear Republican winner heading into June, the chances that the GOP convention will turn into a floor fight go up, too.
So, the outcome in Wisconsin will have major implications for the GOP race. And, with nine more Republican primaries on the calendar before the convention, things are only going to get more intense from here on. Brace yourselves.