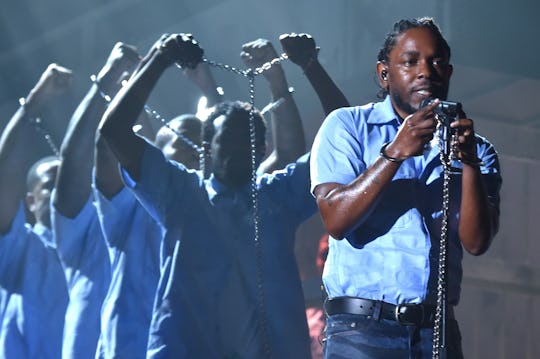 Larry Busacca/Getty Images Entertainment/Getty Images
Why Doesn't Kendrick Lamar's Album Have A Name? Critics Say The Decision Is Perfect
Early Friday morning, Kendrick Lamar became the latest performer to drop a new album without any warning (something that has become a trend, as of late, in the music world). Lamar's album — or, as he refers to it, his "project" — is titled untitled unmastered, and it is available on iTunes, Apple Music, Spotify, and Tidal. But, why the secrecy, and, furthermore, why doesn't Lamar's latest album have a name?
While the secrecy remains a mystery — though it undoubtedly gets people talking and drives the media into a frenzy — according to some, the album's title/lack of title couldn't be more fitting. The eight tracks contained on untited unmastered appear to be unreleased tracks from To Pimp a Butterfly, according to The Verge. And each song title features the word "untitled" along with a series of numbers, which are presumably dates, but that's it. There no track names, there is no album cover art, and since the "project's" release, Lamar has been fairly quiet.
Forbes music reviewer Hugh McIntyre said "the record is exactly what it claims to be: untitled, and completely unmastered, which allows Lamar to sound even more raw than usual." However, just because this album is raw and "rough around the edges," doesn't mean it is bad. In fact, according to reviewer Forrest Wickman, of Slate, these songs on Lamar's latest album are great:
[The] tracks are every bit as jazzy, orchestrated, odd, and full of virtuosic rapping as the ones on To Pimp a Butterfly. It also plays more like a cohesive album than you might expect, complete with a track that serves as an intro and recurring motifs (for example, the cries of "Pimp, pimp, hooray!" that repeat across multiple tracks).
And it seems many Twitter users agree:
While the album was never formally announced, Lamar and his label have been dropping hints. Earlier this week, the head of Top Dawg, announced a "project" was coming, and hours before the album was released, Spotify leaked information about it, including its name and track list, according to The Verge.
Lamar's previous album, To Pimp A Butterfly, earned the rapper five Grammy awards just last month, including Best Rap Song, Best Rap Album, and Best Music Video. However, while Lamar won five, he was nominated in several other categories as well, including Best Duo/Group Perfomance, Best Dance Performance, Song of the Year, and Album of the Year.
So while this album may not be an album at all, fans of Lamar are sure to enjoy this eight-track collection.