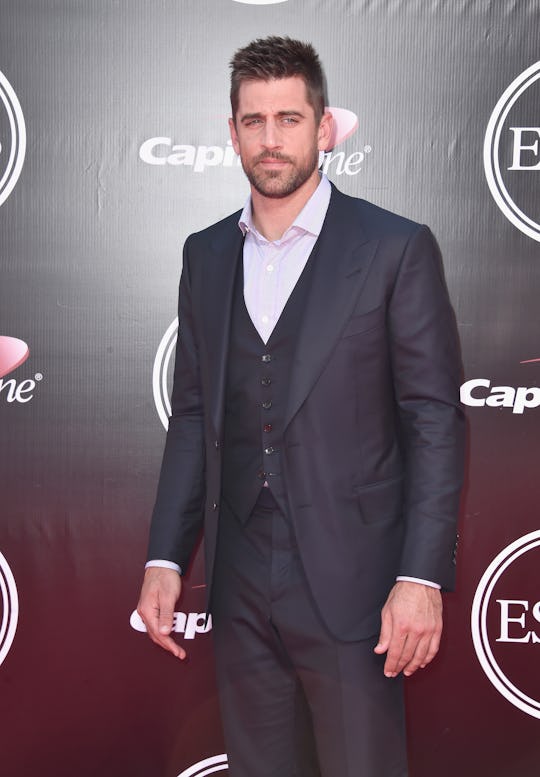 Alberto E. Rodriguez/Getty Images Entertainment/Getty Images
Why Don't Aaron Rodgers & Jordan Rodgers Talk? They Have A Complicated Relationship
Though the connection between Jordan Rodgers and his famous brother has been much hyped in coverage of The Bachelorette, Jordan himself has played kind of coy about it. Aside from a few digs about his sense of entitlement from other contestants on the show, he hadn't addressed his family himself until recently. Now that hometown visits are on the horizon, JoJo wanted to know a little bit more about Jordan's family so she asked him directly just what was going on. And Jordan confessed that while he's close to his parents and his brother Luke, he doesn't have much of a relationship with Aaron at all. They don't even talk. But why don't Aaron Rodgers and Jordan Rodgers talk?
According to Jordan, the tension stems from Aaron, not from him. "It's just kind of the way he's chosen to do life, and I chose to stay close with my family and my parents and my brother," he told JoJo, in what seems to be a reference to Aaron's fame and success. Jordan went on to explain the stress of having his every move compared to the brother that did it better; it was hard to start a career in football when his brother was basically the best in the game. While a little digging makes it seem like the family used to be close, but evidently they've grown apart.
Aaron Rodgers' girlfriend, actress Olivia Munn, has spoken about the familial tension, too. In an interview with Entertainment Tonight while promoting X-Men: Apocalypse, Munn confirmed that the situation was "complicated" and that the brothers don't really talk. Jordan told JoJo that he wasn't even sure if his brother knew that he was on The Bachelorette; apparently they don't stay updated on each other's lives at all.
Jordan cites the endless comparisons as part of the reason for their distance and third brother Luke has spoken about just how competitive the brothers are with each other. In a 2012 interview with NBC, Luke said, "We were always competing. My brother [Aaron] is probably one of the most competitive people I know other than myself. We just all kind of have this competitive streak." That seems to back up what Jordan had to say about the situation, but some have wondered if the falling out between the brothers could have to do with Jordan's ex.
Jordan has spoken about unsuccessful past relationships on The Bachelorette, but when his ex accused him of cheating and being fame-hungry on Instagram, it cast some doubt on his honesty. His ex-girlfriend Brittany Farrar is Olivia Munn's friend and trainer, so it's possible their bad breakup had some effect on Jordan's relationship with Munn and Aaron.
However, Jordan claims he doesn't hold their issues against his brother. "It's not ideal," he told JoJo. "I love him and I can't imagine what it's like to be in his shoes and to have the demands from people that he [has]. I don't have hard feelings against him, it's just how things go right now."
There are definitely some unresolved issues between the brothers, but I think everyone can agree the biggest disappointment here is not getting to see JoJo attempt to keep her cool during a home visit with Aaron Rodgers and Olivia Munn.