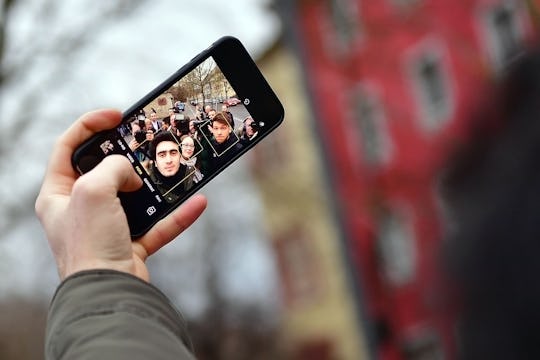 Thomas Lohnes/Getty Images News/Getty Images
Why Don't I Have Facebook Stories Yet?
On Tuesday, Facebook began rolling out its newest Snapchat-esque feature, Facebook Stories, which gives users an effects-enhanced camera and the ability to share disappearing messages and video stories to their followers. It's the social media giant's latest attempt at bringing other platforms' capacities to Facebook, and several users are antsy to gain access to the features. So why isn't Facebook Stories available to everyone yet?
Since Facebook is rolling the features out over the next little while, the update may not have hit your app yet, but don't worry: In a blog post announcing the news, Facebook Product Manager Connor Hayes said the update would be launching this week, so the update should hit your iOS or Android app in the next few days if it hasn't already.
If your Facebook app doesn't update automatically, you'll want to head to the Google Play Store (if you're an Android user) or the App Store (if you have an iPhone) to update your Facebook app. Helpful hint: you can also turn on auto-updates for the app on either system, too, so that you don't have to go through the same ordeal the next time Facebook offers up a Snapchat-like feature.
If the update doesn't add Stories to the top of your news feed, then unfortunately the update hasn't rolled your way yet. Patience, young grasshopper — you'll get it in the coming days.
So what can you expect once you do get all of Facebook's new features? A few things. First, you'll see an Instagram-like Stories bar at the top of your news feeds, where you can see friends' updates (which will disappear after 24 hours). In that same bar, you'll also be able to add your own videos and pictures to Facebook Stories, or — if you're not a fan of broadcasting to your hundreds of Facebook friends — send your disappearing videos and pictures to select friends.
In Facebook's in-app camera, you'll also be able to use the kind of filters you've grown to know and love (or, hey, absolutely hate) on Snapchat, including filters that promote upcoming movies and freaky fun masks. Facebook has even added filters by artists like Douglas Coupland and Hattie Stewart, so you can totally get cultural with your story sharing.
No word yet on whether this latest update will actually convince die-hard Snapchat users to abandon their app — but one thing's for sure: Facebook users will definitely be seeing a lot more temporary content on their favorite social media platform.