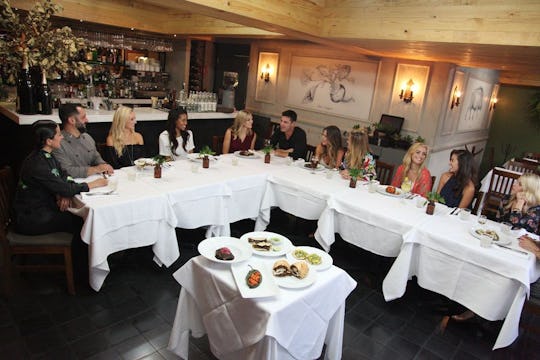 ABC/Eniac Martinez
Why Don't The 'Bachelor' Women Like Jubilee? This One Trait Has Been Getting Her Into Trouble With Her Fellow Competitors
Season 20 of The Bachelor has had some ups and downs, and the contestants involved seem to love to hate one of their own. Between Lace Morris and Olivia Caridi, there was plenty of drama to start the season off, and once Jubilee Sharpe started to receive attention from Ben Higgins, she became the girls' newest victim. But why don't the Bachelor women like Jubilee Sharpe?
It's a bit confusing. Jubilee's a war vet, an accomplished cellist, and isn't scared to be honest (because, hey, caviar is gross). So what's not to like about the girl? Here's the thing: If you listen to the group's criticisms, Sharpe's insecurities and penchant for being very upfront and honest seem to be rubbing people the wrong way.
I think what actually may be bothering the Bachelor girls is that Sharpe is not only accomplished with an interesting backstory, she's very, very honest. When she doesn't like something, she says so. Higgins seemed fairly interested in her on their one-on-one date, and she earned a rose. The other women were seemingly flabbergasted by this, assuming that her humor and candidness would get her kicked off the show, according to Bitter Empire. And while she may have trouble letting people in and seems scared of getting hurt, having the other women confront her and gossip behind her back isn't really helping the issue.
Compounding the problem, Bachelor insider Carter Matt claimed this past week that in Monday's episode, the contestants and Higgins take a Spanish class, and Sharpe gets upset when the Higgins repeats some lovey-dovey words to her in Spanish. "You said that to the last four girls," she answered, looking unimpressed, while — of course — other contestants gasped that she would say such a thing. (Honestly, I would likely have a similar reaction if I were on The Bachelor.)
There's nothing wrong with feeling annoyed, of course. But competing against a whole troupe of girls is one of the most unavoidable parts of being on The Bachelor, and it's not like Sharpe went into it without knowing that — so she might need to turn down her emotional responses. It's not like Higgins can just cancel the show and walk out the door with Sharpe, after all.
All things considered though, that doesn't mean Sharpe doesn't get to be slightly upset with the fact that he's spitting out the same lines to each girl. While yes, I think it's pointless to join a show like The Bachelor if you're not okay with someone dating nineteen other girls, part of the process of dating someone is being yourself. If Sharpe would be unimpressed with him acting that way in real life, it's authentic — not gasp-worthy — of her to do so on the show, as well. Internally, I'm sure all the other girls felt the same way. Sharpe was just the only one who was honest about it.
And that, I think, is what it comes down to between Sharpe and the other girls. She's very honest about what's going on and how she's feeling, and in a competition where mind games and manipulation seem to be front and center, it's not making her very popular. Is that a popularity game you'd really want to win, though?