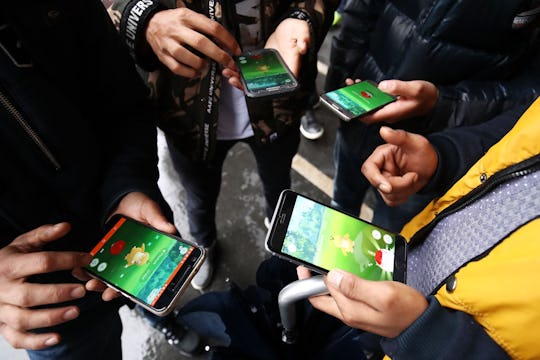 Brendon Thorne/Getty Images News/Getty Images
Why Dropping 'Pokemon Go' Lures At Children's Hospitals Isn't As Helpful As It Sounds
It seems like pretty much everyone is obsessed with "Pokemon Go" these days, and in one particularly heart-warming twist, gamers have been encouraging each other the spread the Pokemon love with others who may not have the chance to enjoy the mega-addictive mobile app. Twitter users are sharing messages recommending that anyone with extra lures drop them at their local children's hospital so that the patients can have the opportunity to play. In theory, this sounds like a wonderful and thoughtful way to brighten the day of sick, young children, but the hospitals themselves are now saying thanks, but no thanks after noticing an uptick in the number of "Pokemon Go" users who have been dropping by. The truth is, dropping "Pokemon Go" lures at children's hospitals isn't as helpful as it sounds — and actually creates a number of problems for patients and staff.
According to BuzzFeed, a number of hospitals have recently taken to social media themselves to explain that the well-intentioned move creates concerns over security and safety, can interfere with the medical staff's ability to do its job, and can also end up disappointing patients who get their hopes up about being able to play. In a statement, The Royal Children's Hospital in Melbourne, Australia, asked that "Pokemon Go" players remain mindful of the fact that "patients at the RCH are among the sickest in Victoria," and that dropping lures at the hospital can create more problems than it solves. It also reminded the public that, the hospital has "lots of entertainment and distractions for our patients," and that "placing lures around the hospital, when children cannot leave their rooms, may create unrealistic expectations, and subsequently, much disappointment."
The Hospital For Sick Children in Toronto, Canada also voiced concern over well-meaning "Pokemon Go" players showing up the facility. The hospital cares for seriously-ill children throughout the province — some who live so far away they must relocate to the city temporarily — and asks that the public "respect [families'] privacy and the hospital space."
That's not to say, though, that "Pokemon Go" isn't having a therapeutic effect for some patients. According to USA Today, hospital staff at C.S. Mott Children's Hospital in Ann Arbor, Michigan, have been using the popular game to help give patients who are able to get out of bed a reason to walk through the unit and interact with other patients.
Digital media manager and certified child life specialist at C.S. Mott J.J Bouchard told USA Today that "Pokemon Go," is, "a fun way to encourage patients to be mobile. This app is getting patients out of beds and moving around."
Jennifer Griggs, mother of an 11-year-old boy currently receiving treatment at the hospital for an inoperable brain tumor, agrees. She told USA Today, "We started just trying to get him out of the room to do something active because it gets a little depressing while you are in the hospital for a lengthy stay."
It's easy to see why the idea of hitting up your local hospital to share some lures with kids would be a great idea — and it certainly seems to be a great option for hospital teams to find new ways to lift patients' spirits. But, as with most things associated with hospitals, it definitely seems best to leave this one up to the pros. Ensuring that children's hospital remain safe places where privacy is protected and where the staff can do their job effectively is incredibly important. That means, for the average "Pokemon Go" user, the best thing to do would be to take their game elsewhere. And if you'd really like to find a way to help out, children's hospitals often welcome volunteers, or financial donations, which can directly help the level of care they can offer patients (including finding better ways to lift sick children's spirits). "Pokemon Go" definitely has lots of really cool aspects, but the ability to help kids by dropping lures at hospitals doesn't particularly appear to be one.