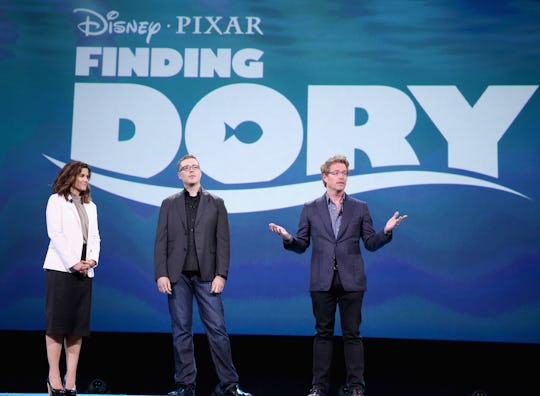 Jesse Grant/Getty Images Entertainment/Getty Images
Why 'Finding Dory' Is So Important For Families Everywhere
The release of Finding Dory is almost here and I can't help but to be excited. The series' first film, Finding Nemo, which was released 13 years ago, is a family favorite and has one of the best messages in an animated film to date. Now it appears that Finding Dory will follow in that same vein. With each and every trailer released, new scenes and bits of dialogue from the film highlight exactly why Finding Dory is so important for families everywhere — and one scene in particular has got pretty much everyone talking.
Finding Dory is set to be released on June 17 but is already generating plenty of amazing hype. This hype is due in part to the strong messages within the film's released trailers — messages about hope, friendship, and the meaning of family. The film's page on Disney's website also mentions that the film will reunite Dory with her loved ones and that the little blue tang fish will learn a few things about family along the way. I'm crying already — and know that I will be crying in the theater come June 17.
But why is the latest Finding Dory clip stirring up so much attention and chatter? Because it depicts the meaning of family in a new way, including a possible depiction of a lesbian couple which made it into the most recent trailer, released on May 24. And if that's not progress, I'm not sure what is.
In the trailer, which debuted on The Ellen Show, Disney revealed that Dory's journey would take to find her parents, and that she would encounter all new characters along the way. Two of those characters, who will surely to be talked about for months, are a a lesbian couple: At the 1:05 mark in the film's trailer, a little girl drops her cup, and viewers overhear the voice of the mother, telling her child that she will pick it up. When the camera pans over to the mother it is revealed that there are two women pushing the child's stroller.
While it is not explicitly stated whether or not the women are a couple, or siblings or friends, the two women in the scene have largely been interpreted by many fans as a couple — which would be monumental for both Disney and Pixar combined (it would be the first time either production company portray a lesbian couple in one of their respective films, although some arguments have been made that Pixar's Inside Out may have featured a young LGBT character as well).
However, this shouldn't be a surprise. Just almost one year ago, same-sex marriage was declared legal by the Supreme Court in all 50 states in the United States. And by now, a gay or lesbian couple depicted in the media shouldn't be considered to be weird or out of the ordinary. While there is still so much progress to be made when it comes to the depiction of same sex marriage in the media, a lesbian couple in a Disney film is a much needed step in the right direction — even if the couple only has a few minutes of screen time.
Hopefully this possible depiction of a lesbian couple in Finding Dory will be just the first step in a long line of big changes to come at the House of Mouse and Pixar's hallowed halls. Showing kids and families that a gay or lesbian couple is just as normal as any other couple, after all, shouldn't be difficult.