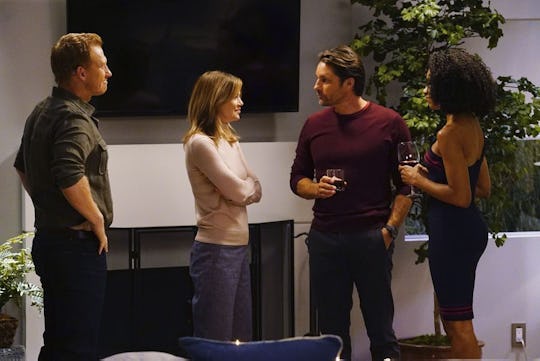 Richard Cartwright/ABC
Why Hasn't Meredith Told Maggie The Truth On 'Grey's Anatomy'? Riggs May Come Between Them
The love triangle between Maggie, Meredith, and Riggs on Grey's Anatomy continues and though Riggs has now given Maggie a hard no, her feelings for him haven't gone away. All Maggie wants to do is talk about Riggs but Meredith doesn't want to hear it, which begs the question why doesn't Meredith just tell Maggie the truth on Grey's Anatomy? If Maggie figures out the truth before Meredith tells her, their sisterhood may be officially over and honestly, the only person Meredith could blame is herself.
Meredith and Riggs hooked up towards the end of Season 12 and so far the only person Meredith has told about it is Alex. When Maggie revealed she had feelings for Riggs at Amelia and Owen's wedding, Meredith should've told Maggie right then that she and Riggs hooked up. Even if she didn't tell her at that very moment Meredith should've said something soon after but she didn't. Since then Meredith has had multiple opportunities to confess but hasn't taken one of them and instead continues to lie to Maggie, something she promised Maggie she wouldn't do. At first it seemed Meredith was doing this to protect Maggie's feelings but if that's the case Meredith is doing a terrible job. It was Meredith that told Riggs to turn down Maggie when she asked him out and now Maggie is left feeling rejected and has no idea why.
It's obvious that Meredith has real feelings for Riggs so why does she keep trying to deny it? She should just tell Maggie the truth so they can all move on. Of course Maggie will be hurt but she'll be even more hurt if she hears it from someone else. Moreover, even if Meredith doesn't date Riggs that's not going to make him suddenly like Maggie. He really likes Meredith and only wants to be with her and at some point he's probably going to get fed up with having to keep his feelings a secret. If Meredith doesn't confess soon Riggs may do it for her, whether it's on purpose or unintentionally.
Meredith is skating on thin ice and her sisterhood with Maggie is already fragile as it is. It would be best if Meredith just owned up to her relationship or whatever it is she has with Riggs sooner rather than later. However, knowing Meredith, she'll drag this out until she has no other option than to face it head on and by then it may be too late to save her relationship with Maggie or Riggs.