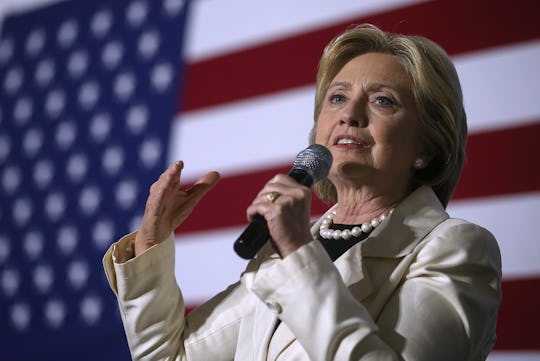 Justin Sullivan/Getty Images News/Getty Images
Why Hillary Clinton's Presidential Debate Appearance Tonight Is So Significant
Millions of viewers are expected to tune in on Monday night to watch Hillary Clinton and Donald Trump officially duke it out and there's a lot at stake for both candidates. This face-off has been reported as one of the most highly anticipated presidential debates in American history and it could be the deciding factor in this very tight election for many voters. It goes without saying that Monday's debate is monumentally important for all Americans. But, what's more is that Hillary Clinton's presidential debate appearance tonight will be leave a significant mark in history within just the first few seconds of the event: Since the first presidential debate in 1960 between Richard Nixon and John F. Kennedy, the former Secretary of State will be the first woman on a presidential debate stage for a major party.
The Democratic nominee has participated in plenty of political face-offs prior to Monday night's main event. Over her many dedicated years in politics, Clinton has become an experienced debater, going all the back to her high school days when she was a member of the student council and debate team. She subsequently fulfilled a law degree at Yale and was later named twice by The National Law Journal as one of the most influential lawyers in America. Clinton then went on to serve on the Senate and as Secretary of State. She has since been a presidential front-runner during two elections, in 2008 and again in 2016.
Needless to say, this is not her first rodeo and she will be well-prepared, which is something the public and press expect from her at Monday's debate. (On the other side of the equation, expectations for Trump's performance are at about "rock bottom," according to NBC News.)
Clinton has reportedly been preparing for the debate tirelessly and seriously. Some of her top aides told NBC News that the candidate has been "poring over briefing books" and "reviewing game tape of Trump's past performances."
"She takes the debate preparation very seriously," top Clinton aide John Podesta said on Meet the Press on Sunday. "She respects the American public — she wants to tell them what she wants to do for them. But she has a challenge because Donald Trump is — inveterately — says things that aren't true."
If the election is any indication of how both candidates will fare on stage this evening, then this could be a pretty ruthless debate. But, as high as the stakes are for tonight's debate, the fact history being made is something pretty special to behold as well. Whatever the case, make sure you're parked in front of the television, a tablet, or a smartphone tonight at 9 p.m. ET. You won't want to miss it.