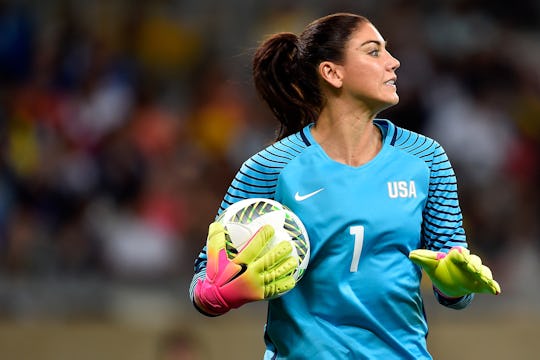 Pedro Vilela/Getty Images Sport/Getty Images
Why Hope Solo Got Booed At The Rio Olympics
The U.S. Women's soccer team is crazy awesome, but that doesn't mean it's free from controversy. On Wednesday, goalkeeper Hope Solo was booed at the first game the U.S. women's soccer team played in Rio because of her stance on the Zika virus. Solo was headed to the Games no matter what, but she expressed some concerns about having to travel to Brazil and worry about the Zika virus. She isn't pregnant or just about to get pregnant, but to be fair, her fears are based in science. Of course, fans in Brazil don't feel the same way. Every time she touched the ball during Wednesday's game against New Zealand (which Team USA won), Solo was boo-ed.
Earlier this year before the Olympics, Solo said she was "begrudgingly" traveling to Rio. "I would never take the risk of having an unhealthy child," she told told The Washington Post. "I don't know when that day will come for [husband] Jerramy [Stevens] and me, but I personally reserve my right to have a healthy baby. No athlete competing in Rio should be faced with this dilemma. Female professional athletes already face many different considerations and have to make choices that male professional athletes don't."
In that light, the boo's are pretty unacceptable. In fact, they are completely out of line. Solo — whatever her personal history — is a woman who is saying she has no choice, given her career, except to do something she doesn't want to do — like travel to a place where Zika is a big problem. These athletes are going against the Centers for Disease Control travel warnings for the sake of gold medals. There is still a travel ban in Brazil for women of child bearing age; Solo is right to speak up.
Zika virus is real and while it mainly affects women who are pregnant and their fetuses, there is not a lot of great information about what it means to maybe get infected with Zika and then get pregnant, according to the CDC. Solo is well within her right to "begrudgingly" go play soccer for her career in a place that isn't exactly safe. She doesn't have to love it. Brazil, right now, is not safe for women of child bearing age, all around.
Even if Solo does get a Zika mosquito bite and gets pregnant within the next few weeks upon her return, there aren't a lot of options for a woman in the U.S. right now to make any decision about her pregnancy when it comes to Zika virus, since Congress is still bickering about how much to spend on Zika and how those funs would be spent.
It's not a sign of weakness that one of Team USA's star goalies is a little worried about getting a virus that could (since there isn't a whole lot of research on the virus) cause problems with a pregnancy later on. Solo is being loud about how much she hates having to compete while worrying about Zika — she's not perfect, maybe, but there's no real science right now that says she is wrong.
Also, before you hate on Solo complaining about "bugs," think about this: The U.S. women's soccer team was planning on striking for equal pay before the summer games. They are World Cup winners and better than their male counterparts and still make less money than the men, who did not even qualify for the Olympics.
The women's team and their strike was struck down by a federal judge. If Solo feels a little hung out to dry — getting paid less and putting her reproductive health at risk, who can blame her for being pissed off? It's very messed up. Solo might not be the perfect spokesperson, but she's right to complain. In any case, the U.S. women's soccer team is about to blow everyone's minds this Olympic season. Stop distracting the goalie.