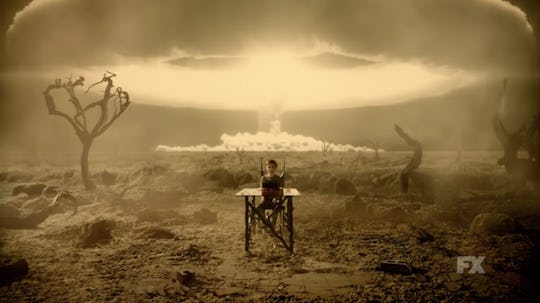 FX
'American Horror Story: Apocalypse' Revisits The Past To Explore The Future
When American Horror Story: Apocalypse premieres on September 12, it will be the long awaited continuation of the show's first and third seasons, Murder House and Coven. But the title of Season 8 indicates that it's something entirely new, too; it may take from the past, but it's telling its own story. So why is American Horror Story titled Apocalypse this season?
The title seems to tie into one key character from the first season who only appeared at the very end of the finale. During Murder House, Harmon family matriarch Vivian was raped and impregnated by one of the ghosts in the house, her daughter's quasi-boyfriend Tate Langdon. Medium Billie Dean Howard prophesied that Vivian and Tate's child would be the Antichrist and "usher in the end of times," because he was born of both spirit and flesh.
Vivian died giving birth to the baby boy (and his twin, who also passed), but he survived. He was named Michael Langdon and went on to be raised by his paternal grandmother Constance. However, his father's bloody impulses seemed to continue with toddler Michael, who killed one of his nannies before the season ended. Now Michael is all grown up, and it looks like he might bring about the end of days after all.
The Hollywood Reporter revealed that Season 8 begins "with the end of the world," according to executive producer Alexis Martin Woodall. At the TCAs, Woodall went on to say, "It starts in the real world. It's very tangible, and it's a familiar panic." Ryan Murphy noted that the season would be set in the near future of October 2019. While he also stated that Apocalypse would have the heightened tone of the early seasons and not the more grounded quality of Cult, it will still kick off in a world not too distant from the current one. But it's a world that will be rocked by some kind of cataclysmic event, possibly brought about by Michael Langdon, who will be played by The Assassination of Gianni Versace's Cody Fern.
Several of the promotional images for Season 8 appear to be referencing Michael as well. In one poster, a glossy red baby with sharp nails holds the hand of a taloned demonic being. While Michael was never so visibly evil (in fact, he looked quite innocent, despite being covered in his nanny's blood), the image of a fiendish baby can't help but bring him to mind. There was a promo that featured a fetus connected to a wizened black heart by an umbilical cord, which then transitioned into the heart exploding like a bomb, leaving behind a mushroom cloud and scorched earth.
There's definitely a connection between an evil child and the end of the world, though it seems like that will only be the beginning of the story. As Murphy told Entertainment Weekly, "It's a season unlike anything we've done because there's a big hook to it. There's a huge thing that happens in Episode 5." If the season opens with the apocalypse, then it's hard to imagine what bigger event could occur five episodes in — but then again, AHS is always full of surprises.
The subtitle of an American Horror Story season tends to plainly describe its setting or characters. Murder House, Asylum, and Hotel were all self-explanatory titles that alluded to where each season took place. Coven, Freakshow, and Cult referred back to the groups who dominated the action. Roanoke was the most mysterious, though ultimately it proved to be a nod to both the setting and the season's show-within-a-show framing device. Apocalypse sticks to tradition: Season 8 explores what could happen to bring about the end of the world, so its title reflects that.