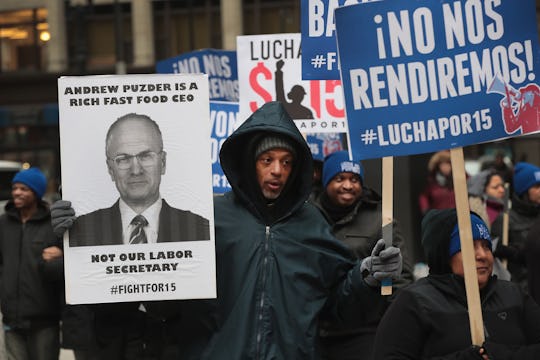 Scott Olson/Getty Images News/Getty Images
Labor Nominee Andy Puzder Reportedly Dropping Out
In today's piece of unsurprising news out of the Trump administration, another one of President Donald Trump's Cabinet nominees is immersed in scandal. Despite Trump's numerous promises to "drain the swamp" in Washington, D.C., many members of his administration and Cabinet nominees have been highly contested amongst both Congressional Democrats and Republicans for their seeming connections to lobby groups or Wall Street. And now, a mere two days after Trump's national security advisor Michael Flynn resigned following allegations of Russian involvement, Trump's Labor secretary nominee is facing his own tough battle. So, why is Andy Puzder dropping out as labor secretary nominee? The answer is still unclear, but the resignation itself really isn't all that surprising.
Puzder, who is currently the chief executive of CKE restaurants, which includes such chains as Carl's Jr. and Hardee's, has recently come under fire for comments his ex-wife made on The Oprah Winfrey Show in 1990 in which she alleged her then-husband Puzder had abused her. On Wednesday, news broke that Winfrey would be releasing the tape of those accusations to members of Congress prior to Puzder's confirmation hearing. Now, Puzder is reportedly planning on dropping out of the running, and with at least seven Republican senators vowing not to confirm him, dropping out of consideration appears to be a smart decision.
As soon as Trump's nomination of Puzder was announced, the executive came under intense scrutiny, as all of Trump's nominees have. However, Puzder's criticisms stemmed not only from the Democratic side of the aisle, but from fellow Republicans, with even a notable conservative online publication, The National Review, stating its opposition to the Trump nominee.
While Puzder's political leanings certainly err on the conservative side, many Republicans take issue with his restaurant chain's advertisements, claiming that the spots are often sexually provocative. Congressional Democrats tend to take issue with Puzder's stance on overtime pay and the minimum wage standard, but Republican opposition to the nominee is almost unprecedented, as even Betsy DeVos had only two Republicans opposing her.
Puzder himself has no public service experience, and would have been the first person in the labor secretary position to lack that experience since the Reagan administration. And as many have pointed out, much like DeVos, Puzder himself donated exorbitant amounts of money to the Trump campaign last year, a sticking point for some in the Senate.
Puzder's expected withdrawal from the position is definitely another big turning point in the Trump administration. For now, it's still unclear who Trump would choose to replace him.