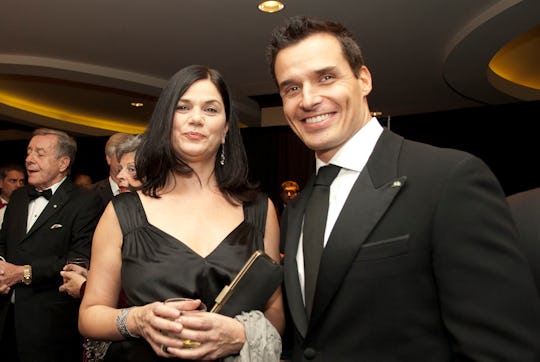 Kris Connor/Getty Images Entertainment/Getty Images
Why Is Antonio Sabato, Jr Speaking At The RNC? He Supports Trump's Message
The Republican National Convention kicks off Monday evening, and a host of celebrities, party leaders, delegates, protesters, and fans are descending on Cleveland, Ohio. The list of speakers has been released, and they're gearing up for their turn to speak on behalf of presumptive Republican nominee, Donald Trump. One of the many names on the list is Antonio Sabàto, Jr. Why is Antonio Sabàto, Jr. speaking at the RNC?
Sabàto is an actor and former Calvin Klein model, according to Variety. Originally from Rome, Italy, he moved to the United States in 1985 to advance his career. He now lives in Los Angeles, California. Because of his roots, he's been closely following how terrorism and violence have changed the face of Europe over the past decade. During an interview with People, he shared the devastating effect the attack on Nice, France, had on him and how it only affirmed his support for Trump. He said, "I used to hang out in Nice in the summer, and now all of Europe has changed. We need a straight-to-the-point person like Trump to give us a fresh start."
He's been a vocal fan of Trump since the real estate mogul announced his candidacy, and the two have even been in contact. According to People, the actor and the presidential candidate enjoy talking over the economic and cultural state of the country, so, naturally, Sabàto was honored when Trump asked him to speak at the RNC. He is scheduled to speak on Tuesday evening "for a few minutes, " according to Sabàto. When asked about his speech, he said he "will discuss my frustration and fear of how things are now, and how we need the kind of change Trump can bring." He was sure to tell People that he is "not being paid to speak," he's just "passionate about improving the world."
His days in Cleveland, Ohio, are sure to be busy. Not only is he giving a speech, but he is also being introduced to other notable Republicans and delegates in attendance. He told People, "I look forward to meeting people like Ted Cruz and Rudy Giuliani. They are smart men who have a hard job. I thought show business was bad but politics is worse."
He added that "it is refreshing to have a candidate like Trump who is so honest about his feelings because he speaks for many of us when he says we are in a bad place. [...] I have never been a Republican or Democrat. I am an American."