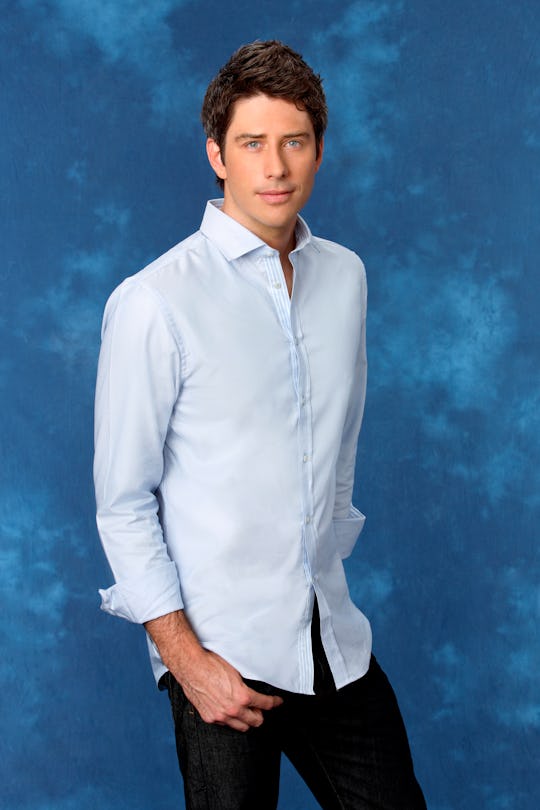 Craig Sjodin/ABC
Arie May Experience More Heartache On 'The Bachelor'
New year, new me — except, not really, because I'm still dedicating my Monday nights to The Bachelor. The new season officially kicked off on New Year's Day and judging by the promo, it seems like a dramatic one. So why is Arie crying on The Bachelor? The new teaser teases more heartbreak for the 36-year-old. Arie is already used to having his heart broken on television, as leads tend to be.
Six years ago he was on Emily Maynard's season of The Bachelorette and fell in love with her; unfortunately, he came in second and was crushed because of the decision. Based on Monday night's promo for his season, he may be experiencing similar emotions despite the fact that contestants are fighting for him this time around.
Like every Bachelor season, the narrative begins with heartbreak. This time is a bit different though, because it's been awhile since Arie has been seen on viewers' televisions. He was on The Bachelorette in 2012, which seems like so long ago (it may be 2018 now, but I'm still thinking about everything that went down in 2017... and 2016, actually). Arie said that not only did he fall in love with Emily, which made the break up sting, but she never told him that she loved him. To her credit, that is something leads tend to do on The Bachelor(ette) because they don't want to seem like they're picking one contestant by telling them they love them when really, they could be saying it to multiple people.
So, yeah, that couldn't have felt good for him way back when. What punctuates Arie's story is that he hasn't been in love with anyone since Emily. He spoke to People about his dating life post-Bachelorette, and it really made me feel for the guy. "It was really hard for me to get over that relationship," Arie told People. "But I learned a lot about myself and how deeply I could love somebody. It made me want to do it again." OK, I don't really see his logic from A to B (having his heart broken made him want to go on television again? Eh, I guess that's every Bachelor's reasoning), but it's clear that Tinder wasn't going to work for Arie. So, he thought he'd put his heart in a vulnerable position again and go for being The Bachelor.
From the promo, though, there may be a repeat of this heartbreak. Not with Emily, of course, but it seems that Arie may be falling for one — or more — of these contestants, and their relationships may not go as well as he hoped. For one, it's possible that he falls in love with two different women. On ABC's site, Arie says he says the fateful phrase, "I love you," to more than one person. "I told more than one person that I was in love and it made it hard for me. I think that I didn't really expect that," he told ABC News. "I didn't know that I had that capacity to love more than one person at a time and I think that's something that some of the bachelors go through and it's difficult. But I'm glad that I left myself open and got to experience that, for sure."
The fact that Arie will feel so strongly about two women (which he hasn't felt since Emily) is pretty amazing, and I could bet a bit terrifying. Perhaps the tears have to do with his frustration over not being able to choose, or wondering if one (or both) of these women will eventually walk away. Bachelor Nation will just have to keep watching this season to find out the true reason why Arie starts shedding those tears.
Check out Romper's new video series, Romper's Doula Diaries:
Watch full episodes of Romper's Doula Diaries on Facebook Watch.