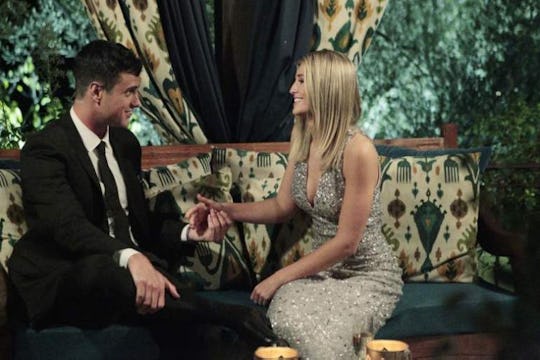 ABC
Why Is Ben Keeping Olivia On 'The Bachelor'? Many Fans Think She Shouldn't Have Stayed
Oh, Olivia. The early Bachelor frontrunner everyone loves to hate had a pretty rough night on Monday's episode. Mostly because she opted to dress as a showgirl and pop out of a cake during the talent show (which, I cannot even believe I am typing. Seriously, producers? A talent show?), according to Entertainment Tonight. The idea seemed like classic, confident Olivia Caridi, the two-time early rose winner, but the execution? Not so much.
Caridi's performance was super awkward and embarrassing — much to the delight of the other Bachelor ladies, who were clearly happy to see her fall down a few pegs in Ben Higgins' eyes. And things honestly didn't get much better during the rest of the episode: she kind of had a post-talent show meltdown, and watching her try to explain her embarrassment to Higgins later on was also mega-cringeworthy. Ultimately, he chose to keep Caridi around, handing her the last rose of the night, surprising viewers who assumed her talent show fail would be her downfall. But honestly? Caridi may not be a fan favorite, but she still totally deserves a break after her upsetting night.
It's easy to hate on Caridi, as she's been pretty upfront about how great a match she thinks she is for Higgins, and how she is totally in it to win it. Not to mention that she (mostly) has the goods to back it up: she's beautiful, smart, charming, and Higgins has been (mostly) entirely smitten. But that doesn't necessary mean she deserves to be grilled for her missteps.
Flopping at the talent show must have really been embarrassing, and it could have happened to any of the girls (I mean, who goes on The Bachelor anticipating that they will need a performable talent to show off?). I can't imagine there's anybody who wouldn't be upset after making such a huge gaffe on national television. And since Higgins really did seem to be into Caridi up to this point, it doesn't seem like one lame, embarrassing moment should be enough to convince him to blow her off entirely.
At the same time, Higgins did have some really great encounters with the other girls this week, and it's clear that he is forming strong connections with them, much to Caridi's detriment. In that sense, maybe he didn't have to keep her around, but then again, even on Caridi's worst night (which, for her sake, let's hope this was), she still had way more of a bond with Higgins than the other three women who didn't get a rose at the end of the night. Giving Caridi another chance seems like it makes perfect sense from Higgins' perspective.
Personally, I'm still totally rooting for Caridi, and I hope she's able to dust herself off and pick herself up for next week's episode. Even though she has made herself an easy target for ridicule, even love-to-hate reality stars deserve some empathy sometimes.