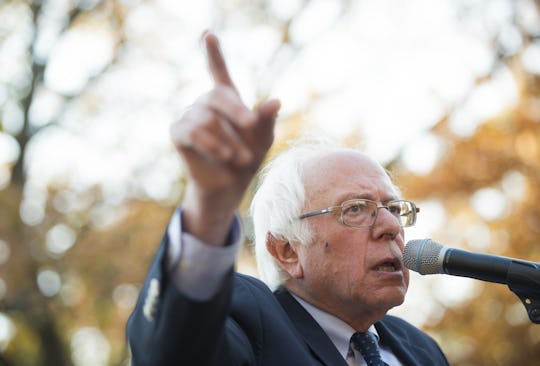 SAUL LOEB/AFP/Getty Images
Why Is Bernie Sanders The Only Politician Speaking Out About Standing Rock?
The updates coming from the months-long standoff between activists and police at the Standing Rock Sioux Reservation in Cannon Ball, North Dakota are often heartbreaking and frustrating. Despite their claims that they have protested peacefully, activists have been arrested, allegedly held in cages, and have reportedly been on the receiving end of police water cannons, pepper spray and rubber bullets. A resolution to the conflict is clearly desperately needed, and yet, with the exception of Vermont Sen. Bernie Sanders, who has denounced the Dakota Access Pipeline, few politicians seem willing to push for intervention in the matter. But given that President-elect Donald Trump is almost certainly poised to support Energy Transfer Partners, the company behind the pipeline, once he takes office, why is Bernie Sanders the only politician speaking out about Standing Rock?
According to Vermont news station WCAX, Sanders was in Washington last week calling on President Obama to declare Standing Rock a federal monument so that pipeline construction could be stopped. The $3.8-billion pipeline has been constructed by the Dallas-based company to transport crude oil from North Dakota to Illinois, but critics have argued that the pipeline is destroying sacred Native land, and that it poses a potential contamination risk to the surrounding water supply.
Sanders has long been an ardent supporter of environmental and social justice causes, and has been using social media to push the importance of those issues, including Standing Rock and the need to stop the pipeline. According to Mic, Sanders outlined in a series of tweets why he was arguing against the pipeline, highlighting some of activists' biggest concerns. These included the risk of water contamination, the impact the increased carbon emissions from the pipeline's oil would have on the environment, as well as the ways in which the Native American communities are continuing to be exploited for financial gain.
According to The Bismark Tribune, Energy Transfer Partners has argued that the pipeline will be "a safer method of transport for oil than rail or truck," and that safeguards are in place to prevent contamination of the water. But, according to TIME, the pipeline's proposed location under the Missouri River means that "even the smallest spill could damage the tribe's water supply" — and that's without even factoring in what continued reliance on fossil fuels by way of the pipeline would mean for climate change. Tribal leaders are also arguing that the federal government did not consult the Standing Rock Sioux when assigning permits, which, according to TIME, is a requirement under the law.
In September, Obama did temporarily suspend construction on the pipeline to allow The Army Corps of Engineers to review its previous decisions concerning the environmental and legal implications of the project, according to The New York Times. That was seen as a big step forward for those opposing the pipeline, but supporters argued that if the government were to block construction, it would prevent other companies from opting to invest in American infrastructure, lest it be opposed mid-project.
Craig Stevens, a spokesman for the MAIN Coalition, told The Times,
Should the administration ultimately stop this construction, it would set a horrific precedent. No sane American company would dare expend years of effort and billions of dollars weaving through an onerous regulatory process receiving all necessary permits and agreements, only to be faced with additional regulatory impediments and be shut down halfway through completion of its project.
Earlier this month, Obama said that the U.S. Army Corps of Engineers was looking into whether the pipeline could be rerouted to avoid the Standing Rock reservation, but made it clear he wasn't prepared to make any definitive calls. According to CBS News, Obama said he believed "there is a way for us to accommodate sacred lands of Native Americans," by possibly moving the pipeline, but said he intended to "let it play out for several more weeks" before any decision was made.
That could be a problem now that a Trump presidency is on the horizon though, because once he is sworn in, Trump will almost certainly green light the pipeline's completion. According to The Guardian, Trump financial disclosure statements show that he is actually a stakeholder in Energy Transfer Partners, and that the company's CEO, Kelcy Warren donated more than $100,000 to Trump's presidential campaign, as well as more than $65,000 to the Republican National Committee after Trump won the GOP nomination. Unsurprisingly, Warren recently said he is not open to rerouting the pipeline, according to CBS News, and that he believes President-elect Donald Trump will ultimately be supportive of the project being completed as originally planned.
While Trump's position on Standing Rock seems to be disappointingly clear, many have criticized former Secretary of State Hillary Clinton for remaining vague about where she stood on the issue prior to the election — something that likely had to do with the fact that she had been endorsed by the trade unions who were in favor of the pipeline's potential to create jobs, according to NBC News.
Unfortunately, it will likely take more than Sanders tweeting about Standing Rock to effect the necessary change to allow the protesters' voices to truly be heard. With Trump likely to side in favor of completing the pipeline, it seems as though Obama will need to be the one to intervene if indeed the project is to be rerouted. But, unfortunately at this point, an end to the Standing Rock protest doesn't appear to be anywhere in sight.