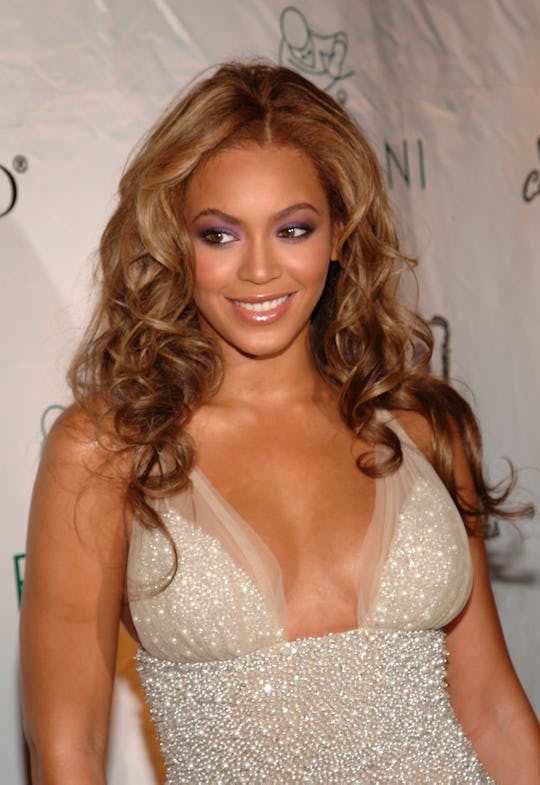 Brad Barket/Getty Images Entertainment/Getty Images
Why Beyonce Wore A Veil In Her Pregnancy Photo
The entertainment world and, let's admit it, a lot of other people were abuzz with the news of Beyoncé's pregnancy announcement on Wednesday. The singer posted one shot from a maternity photoshoot a few days ago, belly on full display, kneeling before a flower arrangement and clothed in a green veil. None of that sly, "here's a picture of some baby booties, or a Pinterest-inspired chalkboard announcing the due date" for the multi-talented artist, oh no. The photo gave people a lot to talk about, including discussion of her choice of attire for this photo from the shoot. One question that's been popping up a lot is, why is Beyoncé wearing a veil in her pregnancy announcement? There could be a lot of reasons.
Beyoncé Knowles-Carter knows how to make an announcement. She knows how to masterfully mold her social media presence. She knows how to get people talking. So it's likely that every aspect of her photoshoot was crafted with all of that in mind, and the photo she chose to act as her pregnancy announcement on Instagram was probably chosen very carefully. The veil is a notable inclusion in the shoot and in her Instagram selection.
"We would like to share our love and happiness," the caption for the photo begins. "We have been blessed two times over. We are incredibly grateful that our family will be growing by two, and we thank you for your well wishes. - The Carters."
In the photo, Beyoncé wears very little, and unapologetically shows off her pregnant physique. Some say this might be in response to allegations that her first pregnancy, with daughter Blue Ivy, 5, wasn't "real." As stated in a BBC piece:
It was alleged after an appearance on an Australian talk show that Beyoncé's bump was fake. By stripping down to fully exposing her bump in 2017, there can be no doubt that this pregnancy is the real deal.
But what of the veil she's wearing in the photo, that, if you look at the rest of the photos recently released on her website, only seems to appear in that particular, flower-embellished series of photos? It's not as if Beyoncé has made a habit of wearing a similar piece of clothing in other shoots, and it's not something featured in the other photos included in the ones she released following her announcement. But it's definitely made people curious.
"Has Piers Morgan got upset about Beyoncé wearing a veil AND baring her body yet? It's bang in the middle of the venn diagram," Twitter user @BeardedGenius quipped, with a humorous drawing depicting two sides of a venn diagram listing, "upset by women deciding to wear a veil" and "upset by women deciding to show their bodies" as the choices, with Beyoncé's pregnancy announcement photo in the middle.
There are several theories about what the veil might mean. A piece on Wedded Wonderland about the shoot suggests:
The veil symbolises purity and innocence as the Bride walks down the aisle face-covered from the fabric. Beyoncé reinforces that image but with a slight change in colour choice. The green veil worn by the celebrity could provoke a more naturalistic concept, rather than holistic. Let's face it, Beyoncé is not a virgin!
The Sun presents a conspiracy theory as part of its analysis of the photo.
In the heavily-styled portrait, Beyoncé is kneeling in front of a floral display while dressed in a burgundy-coloured bra, frilly blue silk knickers and a sheer green veil. Beyoncé is supposedly positioned in a pyramid shape — a key symbol for the Illuminati.
Junkee brought in an art historian for their take on the symbolism of the photo and the veil.
Motherhood is obviously the main theme here, and what better model than the Virgin Mary? The veil is very Italian-Renaissance Madonna.
Still others had their own theories about the mysterious addition to her attire.
Some, like Twitter user @ChiMo___, thought the performer was just being "extra." "BEYONCE is so extra like who needs to wear a veil and a bed of flowers to announce a pregnancy. I LOVE HER EXTRANESS."
One person suggested it's a nod to the Beyhive, her legion of fans. "Thought: is Beyonce's green veil of pregnancy actually a beekeeping accessory in subtle (VEILED!!!) reference to the Beyhive," Phillippa Warr questioned.
There could also be a different religious connotation besides that of the Virgin Mary to the veil. According to Islamic interpretation, "all green garments in a dream represent benefits," and a green garment in a dream can be interpreted as symbolizing the following: "fertile; good harvest; longevity; paradise; youth." Supposedly, the color green in a dream can also be "interpreted to mean submission to Allah's will." Beyoncé isn't afraid to get political, and perhaps the recent executive order to temporarily ban immigrants and refugees from seven Muslim-majority countries was a shoutout of solidarity on her part.
Beyoncé is great at crafting her social media presence and her publicity in general. It's likely she has specific reasons for choosing to wear a green veil in the photo she used as a pregnancy announcement. The rest of us will just have to guess at what those reasons are unless she decides to tell us.