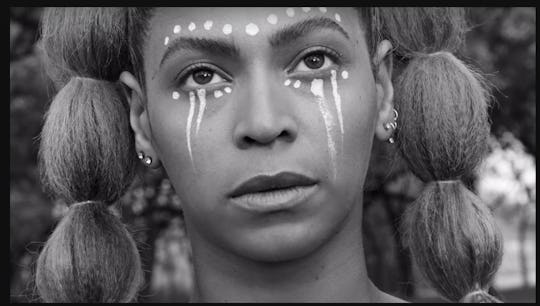 HBO
Why Is Beyonce's New Album Called 'Lemonade'? Bey Actually Explains
As the world was finally introduced to Beyoncé's highly anticipated Lemonade on HBO Saturday night, there were more questions than answers. Viewers were left wondering if Beyoncé and her husband are getting divorced, and as powerful ballads and awe-inspiring images played on, we all found ourselves asking, "Why is Beyoncé's new album called Lemonade?"
Of course, the only person who knows for sure is the Queen Bey herself, and probably her creative team. However, Beyoncé gave us a clue in a beautiful spoken word segment of her HBO special, saying:
Take one pint of water, add a half pound of sugar, the juice of eight lemons, the zest of half lemon. Pour the water into one, then to another several times. Strain through a clean napkin. Grandmother. The alchemist. You spun gold out of this hard life. Conjured beauty from the things left behind. Found healing where it did not live. Discovered the antidote in your own kitchen. Broke the curse with your own two hands. You past these instructions down to your daughter, who then passed them down to her daughter.
Given the numerous lyrics that seemed to reference infidelity, a potential divorce, pain, and anguish, it's highly possibly that Beyoncé's new album is titled Lemonade because she took the lemons of what sounds like an almost broken marriage — the lemons that only an allegedly cheating spouse can provide — and turned them into lemonade, i.e. her daughter and her now healthy marriage. (Romper reached out to Jay Z's publicist for comment but has not yet heard back.)
If that isn't the new anthem of an already heartbreaking and tumultuous 2016 — taking the bad and making it good — I don't know what is.