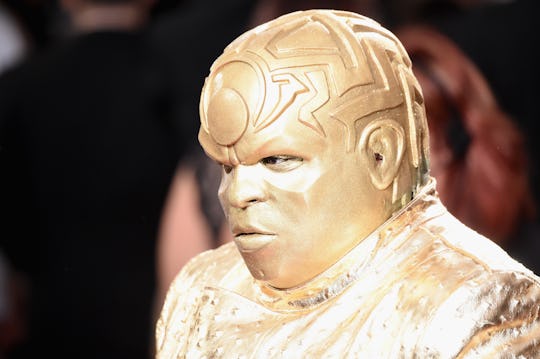 Frazer Harrison/Getty Images Entertainment/Getty Images
Quick Question: Why Is CeeLo Green Gold?
The 2017 Grammys red carpet, rite of passage debuted on Sunday, and honestly, things got a little... strange. From a "Make America Great Again" dress, to a lime-green haired, silent Mike Posner, just about every guest had social media in a tizzy. CeeLo Green, however, stole the entire show, it seems. The singer appeared on the red carpet dressed in a golden garb, complete with a gold face mask (and ya know, I don't think he's trying to minimize his pores). So why was CeeLo Green, well... gold?
Green is not nominated for any awards this year, but as an iconic member of the artist community, his presence is usually expected. What wasn't quite expected, though, is what he would wear. While many celebrities take award show red carpets as opportunities to make some sort of statement, Green's is definitely a standout this year.
Green himself has not confirmed what his outfit choice represents, or if he's just having a little fun, although he has taken to Twitter to retweet many of the internet's reaction to his outfit choice, proving that he doesn't take himself too seriously.
And with that being said, here are the absolute best theories about what Green's outfit choice is all about, laugh away my friends, laugh away.
Obviously, many were poking fun at Green's aesthetic this evening, but it's reassuring to know that Green himself got in on the action, retweeting the following jokes shortly after his red carpet entrance.
However, after all the jokes were made, Green also made it a point to clarify that his outfit was actually credited to his alter ego, Gnarly Davidson. Davidson released his first single, "F**k Me, I'm Famous," in December of last year, and it seems that Green's emergence as Davidson at the Grammys is a deliberate choice to inform others of his new musical venture.
But even with this new information on the reasoning behind Green's ensemble, the jokes and memes on Twitter still hold up, and are a welcome distraction from all the other craziness going on in the world right now.
And while everyone seems to be excited for Green in his new musical venture, they can't help but enjoy all the great memes coming from his interesting outfit this evening — and who can blame them? Just look at them:
Best of luck, Green/Davidson, in your new phase of artistry tonight! We're all confident that you're going to bring it, just like you brought the fire with your red carpet look.