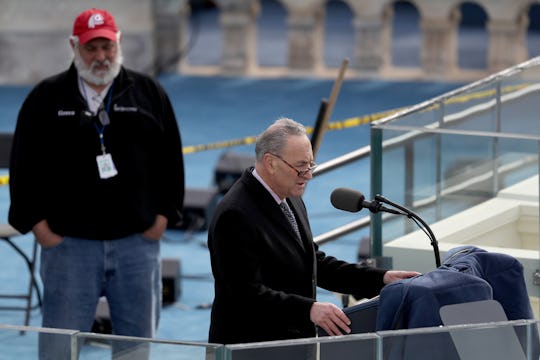 Joe Raedle/Getty Images News/Getty Images
Chuck Schumer's Inaugural Speech Was Booed
On Friday, Senate Minority Leader Chuck Schumer (D-New York) took to the inaugural stage to give a speech, met by boos from Trump supporters, before Supreme Court Justice Clarence Thomas swore in Mike Pence as the next vice president of the United States. But the New York senator's speech had many wondering: why is Sen. Chuck Schumer speaking at the inauguration? And more importantly, why does he want to speak at the inauguration, especially when he's butted heads with Trump's team so many times?
As it turns out, it's all about protocol. According to the Washington Post, Schumer spoke during the swearing-in proceedings because he is the outgoing ranking Democrat on the Senate Rules Committee. As one of the leaders of the Rules committee, Schumer served as a ranking member of the Joint Congressional Committee on Inaugural Ceremonies, the Post reported. Since Schumer has taken on that role, that meant he would also serve as a master of ceremony for the inauguration. The same goes for Sen. Roy Blunt (R-Missouri), who is the outgoing chairman of the Rules committee and chair of the congressional inaugural committee. Blunt's speech proceeded that of Schumer, the new Senate minority leader, on Friday afternoon.
Schumer's speech was not well-received. Trump supporters far in the crowd booed as he spoke. The heckling came early during Schumer's address, and was particularly accentuated when he began to mention the diverse backgrounds that make up the American populous.
The boos did not deter Schumer, who went on to read an excerpt from a Civil War solider's last letter to his spouse, Sarah. The letter, posted in full by Talking Points Memo, reads in part:
I have no misgivings about, or lack of confidence in the cause in which I am engaged, and my courage does not halt or falter. I know how strongly American Civilization now leans on the triumph of the Government and how great a debt we owe to those who went before us through the blood and sufferings of the Revolution. And I am willing — perfectly willing — to lay down all my joys in this life, to help maintain this Government, and to pay that debt…
In spite of the crowd's reaction, Schumer and President Trump are not complete adversaries. As pointed out by Politico, Trump has donated thousands of dollars to Schumer's campaigns in the past, and they share many of the same political ties. Trump even allegedly said he likes Schumer more than conservative leaders in Congress, according to The Hill. But tension rose recently between the two New Yorkers after Schumer criticized Trump's administration picks, to which Trump called him a "clown," MSNBC reported.
Needless to say, this will be an interesting and confusing four years.