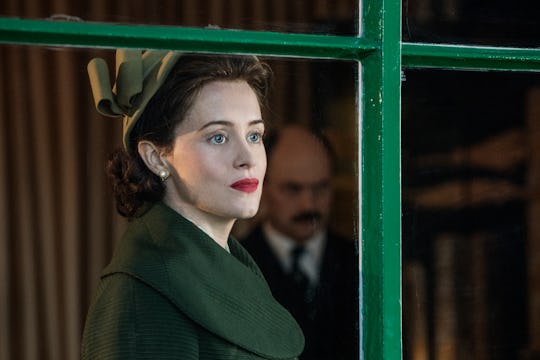 Stuart Hendry/Netflix
Claire Foy's Reign As Queen Elizabeth II On 'The Crown' Is Coming To An End
The second season of what is reportedly Netflix's most expensive original series just dropped, and it'll be Claire Foy's last turn as the Queen of England (at least, in this show). The Crown premiered last November to critical acclaim and the buzz for Season 2 is just as hot. So some fans of the series may be wondering: why is Claire Foy leaving The Crown? In truth, she was only ever slated to do two seasons.
Creator Peter Morgan has a six-season plan for the series, spanning six decades of Queen Elizabeth II's life and reign. And with one season being put out roughly every year or so, the show decided to recast the characters as they age, rather than artificially transforming Claire Foy into a 90-year-old woman. So for Seasons 3 and 4 of the show, she'll pass on her crown (see what I did there?) to Olivia Colman, who will play the queen in her middle age when Season 3 returns after a time jump.
As for Foy, she knew about the show's plan from the beginning and was actually relieved she'd only have to tackle playing the monarch for two seasons. "As an actor, there's nothing worse than the sound of 'seven years,'" she said during the BFI & Radio Times Television Festival, according to People. "I'm sure to some people it sounds amazing, but to us it's like, seven years of playing the same person? And this is a tough job, you know?"
According to Harper's Bazaar, during a press conference for her new film Breathe, Foy reassured fans that she had no hard feelings about leaving the series behind, saying, "I always knew from the get-go that I was only going to be doing two series. I'm just very, very grateful that I have had such a wonderful time playing that part and made friends for life."
While it will be sad to see Foy's stunningly pragmatic performance of a young Queen Elizabeth go, her replacement is just about the best one fans could hope for. Colman is fresh off a Golden Globe win and an Emmy nomination for her performance as Angela Burr in the HBO miniseries The Night Manager. (In fact, she took home the Supporting Actress Golden Globe the same year Foy won Best Actress for The Crown.) She's also won a BAFTA TV Award for her work on British crime drama Broadchurch. Currently, Colman can be seen on the big screen playing Hildegarde Schmidt in the much-anticipated film adaptation of Murder on the Orient Express.
The Crown hasn't officially been picked up for Seasons 3 and 4, but it's expected to be. Before the news of Colman's casting was officially announced, Foy endorsed her successor at the Breathe press conference, teasing, "I know who's doing it and I'm not telling you... It's really exciting and great and amazing!"
One thing that fans may find less exciting, great, and amazing? Season 2, which is set to follow the young royals through the year 1964, focuses even more tightly on Season 1's most infuriating character: Prince Philip. His background whining amidst Elizabeth's remarkable poise and even keel was excruciating to sit through, but nevertheless, Morgan teased in an interview with Vanity Fair: "I find him extraordinarily interesting — his childhood, again, you couldn't make it up. The soul of Season 2 is about his complexity."
As for the rumors of alleged infidelity which have plagued Prince Philip for years, The Crown opted only to nod toward them in Season 2, rather than to depict a full-blown affair.
You can catch The Crown's new season now streaming on Netflix.
Check out Romper's new video series, Romper's Doula Diaries:
Watch full episodes of Romper's Doula Diaries on Facebook Watch.