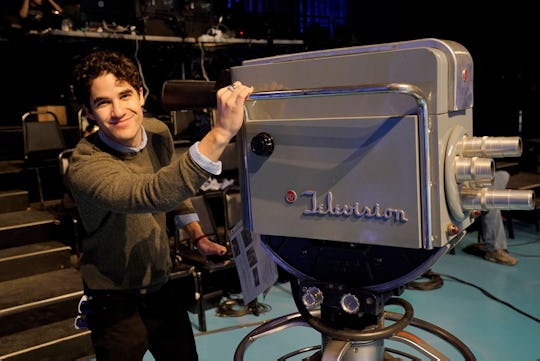 Chris Haston/NBC
Why Is Darren Criss Hosting 'Hairspray Live!'? The 'Glee' Star Will Be Running The Show
Just when you think that the cast of NBC's Hairspray Live! couldn't possibly get more star-studded, you find out that Glee alum and Broadway vet Darren Criss will be hosting the live production event. But why is Darren Criss hosting Hairspray Live! in the first place? A host is certainly never found in the musical movie or Broadway production, so why incorporate it into the production now? Well, the format seemed to work for FOX's Grease Live! when Mario Lopez pulled double duty as Vince Fontaine and showrunner of the evening, so why not keep the momentum going on NBC? Plus, I dare you argue that anyone else is more perfect for the job. But the actor's involvement is going to extend even a little further than that.
According to Playbill.com, Criss will be in charge of running a "multimedia companion viewing experience" that will help give viewers a behind the scenes look at all the excitement. So what does that mean exactly? Basically, throughout the evening, Criss will pop up intermittently throughout the broadcast to show us around backstage. Additionally, he'll be hosting the Facebook Live event for Hairspray Live! that will stream for three full hours as the show takes place. So this is yet another way to see the cast and crew work their magic both on stage and behind the camera. Oh, and don't be surprised if Criss also delivers some interesting fun facts about the musical as well when the opportunity presents itself.
Obviously, this is going to be a major responsibility on Criss' part, but given how much experience he has under his belt with live performances — he's headlined for major Broadway productions, including How to Succeed in Business Without Really Trying and Hedwig and the Angry Inch — I'd say he's more than up to the task.
As of now, it's unclear if he'll also go on to play any minor role throughout the production as well, but considering all of the hosting duties he's been given, I seriously doubt it, which is fine. Though if he did want to bust out a quick song and dance number at some point throughout the night I certainly wouldn't say no. Just saying! Either way, it's just great to see him incorporated in an already impressive cast. With all of these talents at the helm, I have no doubt that Hairspray Live! could prove to be the network's best live event yet.