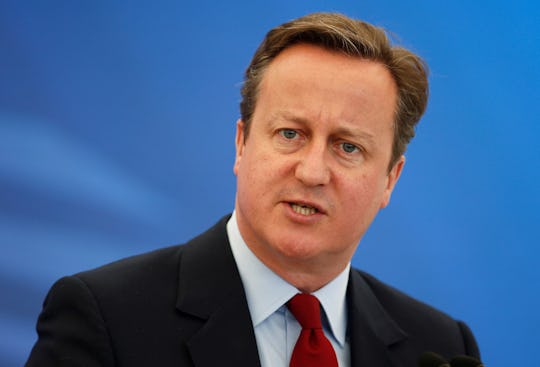 WPA Pool/Getty Images News/Getty Images
Why Is David Cameron Leaving Office Now? He's Exiting Earlier Than He Originally Announced
Britain has voted to leave the European Union, and now its prime minister is on his way out as well. After the controversial Brexit vote last month, David Cameron announced that the country needed new leadership and that he would resign. On Wednesday, that pledge will become a reality, he announced today. Why is David Cameron leaving office now? Because one of his potential successors has dropped out of the race, Cameron has acknowledged that the sole remaining candidate, Theresa May, has the overwhelming support of the conservative leadership, The Telegraph reported. So he'll relinquish his position to her ahead of the Sept. 9 date originally established.
On June 23, the British electorate made the tumultuous decision to leave the 28-country strong economic and political partnership that is the European Union by way of referendum. Cameron, along with 48 percent of British voters, took a solidly anti-Brexit stance, calling it "the gamble of the century" that could threaten Britain's trade relationships, security, economy, and more. So soon after pro-Brexiters nevertheless prevailed and Cameron announced he would soon call it quits, British Energy Minister Andrea Leadsom and Home Secretary Theresa May, both of the Conservative Party, began campaigning for his job.
But Leadsom abruptly pulled out of the race on Monday, saying she had opted to do so because she did not think that she had sufficient support from her party's Parliament to move forward, The New York Times reported. But the decision came after she spent the weekend fielding nationwide criticism for suggesting during an interview with The Times of London that she would perform better than May as Prime Minister because she is a mother and May is not.
"She possibly has nieces nephews, lots of people," Leadsom said. "But I have children who are going to have children who will directly be a part of what happens next." She soon apologized for the remarks.
Britain's next Prime Minister will, of course, lead the country into uncharted territory. May will have to navigate the specific terms of Britain's break with the European Union, and it's a challenge Cameron believes she's up for, children or no, he said during a news conference announcing his resignation:
I'm also delighted that Theresa May will be the next Prime Minister. She is strong; she is competent. She's more than able to provide the leadership that our country is going to need in the years ahead, and she will have my full support.
Now, Cameron will head to the Royal Palace to resign before the Queen on Wednesday, and May will take office and begin work dealing with the aftermath of the Brexit vote immediately. It's been a whirlwind day in Britain as the country's citizens have watched their prime minister enthusiastically endorse another politician's ability to take over his office. As May transitions into the premiership, though, it will be just one of the many, many major changes that Brits will experience in the coming year, post-Brexit.