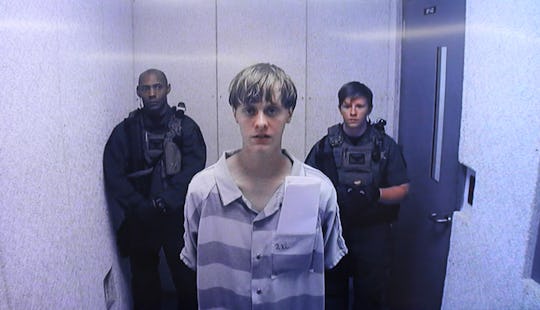 Pool/Getty Images News/Getty Images
Why Is Dylann Roof Representing Himself? Judge Calls The Request "Unwise"
Dylann Roof is accused of walking into Charleston, South Carolina's Mother Emanuel AME Church on June 17, 2015 and killing nine innocent black churchgoers in a racially-motivated shooting. Just just last week, Roof was found mentally competent to stand trial, where he will face the death penalty. Which is why it was shocking when Roof asked the judge to let him act as his own attorney before the trial started. Why is Dylann Roof representing himself? It seems like an especially reckless choice, considering he could face capital punishment.
Roof asked Charleston Federal District Court Judge Richard M. Gergel to represent himself, according to the New York Times, a move the judge called "strategically unwise," but allowed because, he said, "it is a decision you (Roof) have the right to make."
TIME reported the move to represent himself was against Roof's lawyers' advice.
Previously, Roof was represented by a death penalty lawyer David I. Bruck. Roof said he will keep Bruck next to him at the defense table as a "stand-by counsel," according to the Post & Courier, but as jury selection was underway, Bruck tried to object to a potential juror selection, and was quickly shut down and told by the judge to confer with Roof.
"Mr. Roof elected to self-represent," Judge Gergel said, according to the Post & Courier. The Post & Courier said Roof "asked no questions and made no objections" as the jurors were questioned by the judge.
Last week, according to the New York Times, Roof offered to plead guilty to the charges in exchange for life in prison, but prosecutors turned it down.
Roof doesn't just face 33 charges at the federal level, according to the BBC, he also faces nine counts of murder at the state level, and South Carolina prosecutors have said they will also seek the death penalty.
According to a live blog of the trial from Live 5 News, when Roof told the judge he wanted to represent himself, Gergel "asked Roof if he is aware that (if) he represents himself, his defense might not be as strong. Roof acknowledged he was aware."
Is Roof knowingly sabotaging his defense? Just last week, as Gergel pointed out, Roof was found to be mentally competent to stand trial and make these kinds of decisions, and when asked by Gergel, according to Live 5 News, if Roof felt like he was "capable of representing himself... Roof said he was."