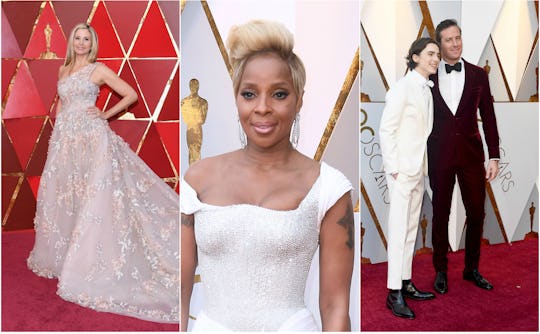 (1) Kevork Djansezian/Getty Images Entertainment/Getty Images; (2, 3) Frazer Harrison/Getty Images Entertainment/Getty Images
At The Oscars, The Political Undertones Are White-Hot
After a muted Golden Globes red carpet where nearly every star showed up wearing black, fashion fans were ready for a pop of color at this year's Academy Awards. So it came a surprise to some viewers when the gowns were once again largely devoid of bold hues. Why is everyone wearing white at the Oscars this year? Is it another statement, or just the trend of the moment? White is the color of suffragettes, so the decision by so many female attendees to opt for that shade was certainly meaningful.
Those who wore white on Sunday included Timotheé Chalamet, Mira Sorvino, Janet Mock, Laura Dern, and Jordan Peele. Following the black dress campaign at the Globes, which called attention to the Time's Up movement, a group of women executives in the music industry formed Voices in Entertainment, which encouraged attendees of the 60th Annual Grammy Awards to wear or carry a white rose to show their support. "We choose the white rose because historically it stands for hope, peace, sympathy and resistance," the group said in a statement, as reported by Rolling Stone. Artists such as Rita Ora, Kelly Clarkson, Lady Gaga, Cyndi Lauper, Miley Cyrus, and Cardi B. all heeded the call. Hey, there's no reason why you can't support a movement and still be fashion-forward, right?
White accessories were linked to Time's Up once again at the Cesars on Friday night, according to The Local. Actor-director Tonie Marshall encouraged attendees of the so-called "French Oscars" to wear white ribbons in order to show support a French foundation that works to prevent violence against women.
Wearing white is a move loaded with feminist connotations. Last year, when President Donald Trump made his speech to Congress, dozens of Democratic women wore suffragette white to protest his attempts to roll back women's rights, according to CNN.
And at this year's State of the Union address, some wondered whether First Lady Melania Trump's white suit was a not-so-subtle dig at her husband, as Vanity Fair noted. Her appearance marked the first time that the couple had been spotted in the same room together since news broke of his alleged sexual encounter with adult film star Stephanie Clifford (who uses the name Stormy Daniels professionally), as reported by the Wall Street Journal, which published details about a payment made from Trump's lawyer to Clifford a month prior to the 2016 election. The White House denied the allegation, calling it "fake news," as reported by the Washington Post.
The Oscars, in particular, has been a popular event for protest attire. Last year's show featured three different accessories in defiance of a newly-inaugurated Trump, according to the Telegraph. Stars wore Planned Parenthood pins, American Civil Liberties Union ribbons, and safety pins, which symbolize solidarity with marginalized people.
As the Telegraph recalled recently, many guests wore black to the 2003 Oscars to protest the Iraq war.
There's no official word on what a white gown or suit might symbolize at this year's Oscars, though, so it seems it's just the color of the moment, and from the looks of those outfits, it's a trend that will continue.
That doesn't mean that people weren't wearing their politics on their sleeves — or lapels, as it were — on Sunday night. Time's Up is still getting a shout out via subtle black-and-white pins, because that legal defense fund needs your help.
Glamour has reported that some stars planned to wear orange and white American flag pins to protest gun violence, something that Congress and the president have yet to do anything to stop since 17 innocent people were gunned down at a Florida high school on Valentine's Day.
No matter what your politics, we can all agree that white totally deserves to be the color of the moment, because these actors look absolutely amazing.
And it's a good thing that they chose black for the Golden Globes and white for the Academy Awards, because getting drunk and snacking while wearing thousands of dollars of white fabric would have been a recipe for disaster.
Check out Romper's new video series, Bearing The Motherload, where disagreeing parents from different sides of an issue sit down with a mediator and talk about how to support (and not judge) each other's parenting perspectives. New episodes air Mondays on Facebook.