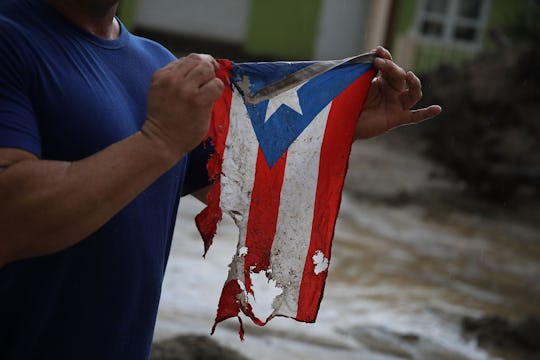 Joe Raedle/Getty Images News/Getty Images
2 Million People Are Still Waiting For Food In Puerto Rico
There is no question that Puerto Rico is facing a major crisis right now. After getting hit by Hurricane Maria in September, the island was left without power or cell service, with residents left to scramble for shelter, food, and water. But weeks later, the situation hasn't improved much: according to CNN, many Puerto Ricans are still lacking electricity and running water and necessary supplies. Public outrage over the government's handling of the crisis has left many wondering, why is FEMA taking so long to help Puerto Rico? Unfortunately, there is no clear-cut answer — and the explanation ultimately seems to depend on who you ask.
In the wake of the devastating hurricane, San Juan Mayor Carmen Yulín Cruz became an outspoken critic of the Trump administration's response to Puerto Rico, and has repeatedly claimed that the Federal Emergency Management Agency has failed to provide appropriate assistance. In an interview with ABC's This Week, FEMA administrator Brock Long dismissed Cruz's complaint, according to Politico, calling it "political noise," and admitting, "We filtered out the mayor a long time ago." But for many people in Puerto Rico frustrated with the lack of progress, Cruz's assessment is right on the money — and, in some cases, it's not scathing enough. As 38-year-old Guayanilla resident Lisa Marie Estrada told CNN, "[The response] is fast in the San Juan area, but the south is forgotten." And it certainly sounds that way: Estrada and other residents in the southern coastal town had to wait two weeks for FEMA supplies to arrive.
It seems almost baffling that so many Americans could be feeling entirely ignored and stranded when there are supposed to be officials and agencies in place to help, but for the more than 2 million people waiting on food and water, it's a painful reality. For one, FEMA says that the government is currently providing 200,000 meals each day to Puerto Rico — a daily shortfall of between 1.8 million and 5.8 million meals, according to The Guardian — and more than one-third of the country is still lacking drinking water. And according to Vox, it will likely take up to six months before power is properly restored to the island.
Though he clearly does not appear to see eye-to-eye with the San Juan mayor, Long insists that progress is being made, albeit slowly, according to USA Today, and that, as far as he was concerned, the island's infrastructure was the reason for the delay. On Monday, Long told reporters,
We're slowly starting to make progress every day. It's not going to move as fast as people want because you're dealing with a very fragile power system, very fragile public works system, very fragile roadway network system.
Long also explained that the hurricane damage made it particularly difficult to get supplies to Puerto Rico in the first place, and that many of the state and local officials who would normally be called on to offer assistance were victims of the hurricane, meaning fewer people able to help out. According to Long, that has meant that FEMA has been forced to "play a greater first-responder role" — something he told USA Today the agency isn't actually designed to do.
Brig. Gen. Jose Reyes of the Puerto Rico National Guard also told reporters that the sheer magnitude of the devastation contributed to the slow response, as officials struggled to find their footing. According to The Washington Post, Reyes said,
You have to understand, this is a situation never seen before. We were hit by two hurricanes, Cat 5, within less than 10 days. We were not even getting back on our feet after Irma, then suddenly we got hit by Maria. It's like getting all the leadership in a warehouse and you turn off the lights and the communications, and tell them, all right, get it fixed. When you go to Texas, or you go to Florida, help will come through the roads. And it may hit a portion of Texas, but not the whole state.
Then, there are the logistical problems. According to CNN, distribution of FEMA supplies on the United States mainland is usually pretty straightforward, with aid being delivered directly to local distribution centers, where it is given out. But in Puerto Rico, it's a much more complicated process: it first has to make its way to the island by sea or air, then delivered to San Juan, before it can be sent to distribution centers. But that's not all. According to CNN, local officials then have to travel to the centers to pick up the supplies, before returning back to their towns to distribute them to residents. All, of course, while most of the island is without electricity and phone service.
The president, however, seems to be pleased with the progress being made in Puerto Rico, and in a tweet Sunday, he shared a video of helicopters and trucks assisting with the relief effort on the island, writing "Nobody could have done what I've done for Puerto Rico with so little appreciation. So much work!" Yet the number of Puerto Ricans still left without power, clean water, or access to food suggests that his assessment is way off the mark.
Though many residents don't even have access to running water, on Wednesday, FEMA announced $70 million in funding would be going to Puerto Rico's water authority in the wake of growing concern over the safety of the water that is currently accessible. The EPA has also recommended that those with access to running water boil it before drinking, brushing teeth, cooking or washing dishes, according to NBC News, though at the moment, that's only a precaution.
It's hard to fathom the reality that those in Puerto Rico are living in right now, particularly given that there doesn't appear to be an end in sight. And while it does seem clear that there have been many, many obstacles to providing aid to the island, it's beyond frustrating to see that so many Americans are continuing to suffer. Officials may not agree on what the problem is, or on the best way to fix it, but so long as residents are left without reliable access to food and water, it doesn't seem like anyone should even be considering patting themselves on the back for a job well done.