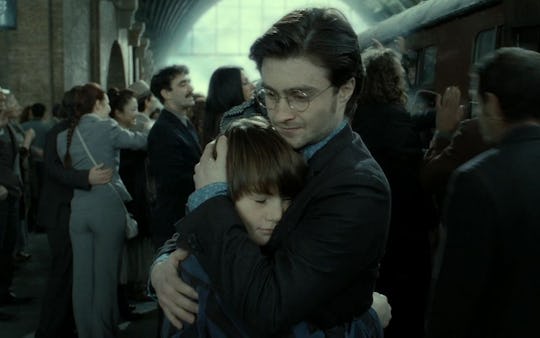 Warner Bros.
Why Is 'Harry Potter & The Cursed Child' Coming Out On July 31? There Are A Few Theories
Counting down the says till Harry Potter & the Cursed Child hits the shelves? Or, if you're a real millennial, makes its ways to your Kindle? Well, you're not alone. Since news broke that the Harry Potter series would get a eighth installment, fans of the wizarding world have been anxiously awaiting the books arrival. And, as the days dwindle down, questions about the book have been popping up in fan forums. Though most questions revolve around the plot, many may be wondering why is Harry Potter and the Cursed Child coming out on July 31?
As any fan of The Chosen One & Co. will tell you, nothing is coincidental in the world of Harry Potter. There is undoubtedly a reason (or two) why the play and its subsequent script-turned-book are making their way to the muggle universe on the last day of July.
The first, and most obvious reason if you're a Harry Potter fan, is that July 31 is Harry Potter's birthday. If you read the book, you will remember that The Chosen One's birthday fell shortly before the start of the Hogwarts school year. And, it wasn't until his 12th birthday, the day was acknowledged in any way. Thank God Hagrid knows how to make a chocolate cake.
Since Harry missed out on so many celebrations as a child, it only makes sense that his birthday be honored with the release of a new book. And, luckily, he's old enough to go HAM on this special day. As Time magazine pointed out, Harry Potter was born in 1980, meaning he will turn 36 this year. If the finals scene of Harry Potter and The Deathly Hallows is any indication, Harry looks pretty good for an almost 40-year-old.
But July 31 holds another important meaning for Harry Potter fans. No, it's not the date the first book was released (that's June 26, for those who are wondering.) It also happens to be J.K. Rowling's birthday. According to Biography.co, Rowling was born on July 31, 1965 — a mere 15 years before her heroic character. And, when you think about it, it makes sense that the unofficial queen of the wizarding world share the same birthday as the hero of the wizarding world. After all, both have brought such joy into the world and changed a generaiton of readers. Plus, think of all the money fans of the two can save of party supplies
Whether you choose to celebrate the day by seeing the play, attending a Harry Potter-themed party, or reading Harry Potter and The Cursed Child from sun up to sun down, July 31, 2016 is bound to one for the books — both literally and figuratively.