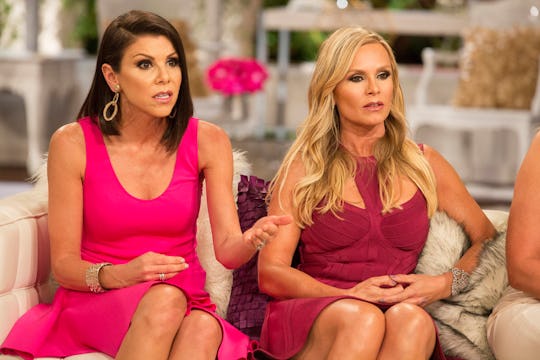 Isabella Vosmikova/Bravo
Heather Dubrow Will Be MIA From 'RHOC' Season 12
When Bravo dropped the tear-filled, action-packed trailer for the upcoming season of The Real Housewives of Orange County, there was one notable exception missing from the cast. In case you missed the announcement on her podcast, Heather Dubrow announced back in January that she's leaving the series. From hexagonal ice to leech therapy, Dubrow was at the center of so many iconic OC moments that it begs the question: why is Heather Dubrow leaving The Real Housewives of Orange County?
An actress and television personality, Dubrow joined the cast in Season 7 and quickly used her wit and GIF-able reactions to carve out a space for herself among the huge personalities that surrounded her. From her marriage to Botched plastic surgeon Dr. Terry Dubrow to her life as a mother of four to her instantly legendary feud with fellow cast member Kelly Dodd, Heather hid nothing about her opulent life, which is part of why she decided to leave in the first place.
Never fear, Heather fans. She wasn't fired, she didn't leave in a fit of anger, it's just that her life is changing. Back in January, Heather explained why she decided to leave RHOC on her podcast, Heather Dubrow's World, and that her decision came down to what was best for her children. "My oldest kids are now teenagers, and I just felt like they need to make their own decision about being on television and exposing their lives," she said. "And for me personally, I have some really cool, interesting opportunities that I want to explore."
As for those opportunities, well, Dubrow hasn't revealed what they are just yet, nor does she know "where they're going to go," but she wants "the opportunity to explore them." Can't fault a lady for that.
In an exclusive statement to Bravo's The Daily Dish, Heather said she might consider coming back, but not right now. "These past 5 years have been an incredible journey and I'm so proud to have been a part of such an iconic piece of pop culture," she said. "However, at this point in my life, I have decided to go in another direction and do what's best for my family and career. Should I change my mind, I thank Andy Cohen, Evolution and Bravo for telling me that the door is always open."
Oh, Heather. I hope you take this time to really live it up in Dubrow Chateau. You will be missed.