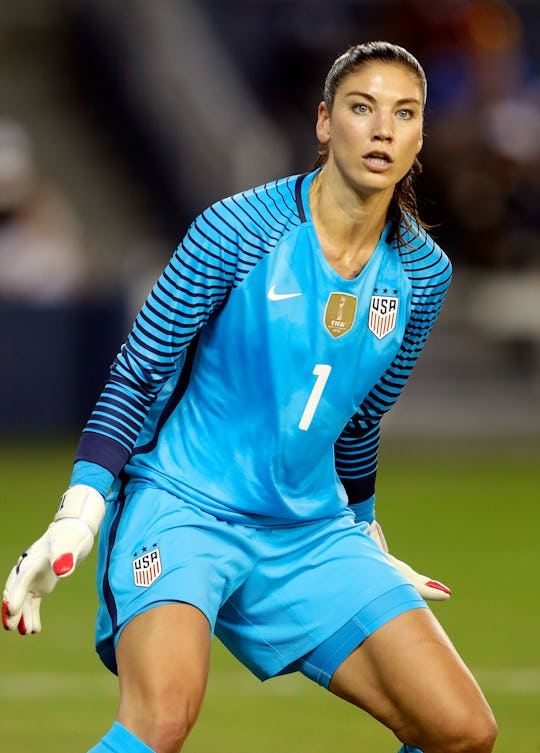 Jamie Squire/Getty Images Sport/Getty Images
Why Is Hope Solo Allowed To Compete In The Rio Olympics? She's Still Awaiting Trial
U.S. Women's Soccer player Hope Solo wowed soccer fans all over the world when she played the game of her life and claimed a huge victory with the U.S. Women's Soccer Team at the World Cup in 2015. Now, Solo and friends are back this year at the 2016 Rio Olympics, hoping to recreate that success and win gold for the United States once more. But with all of the allegations that stemmed from Solo's very public personal life, some have to have wondered why Hope Solo is allowed to compete in the Rio Olympics at all.
First, of course, a little background for those in need of a refresher, or for those unaware of what has been going on with Solo over the past two years. In 2014, charges were reportedly filed against Solo that accused her of alleged misdemeanor domestic violence involving her sister and 17-year-old nephew, according to ESPN. Two years later, the case has yet to go to trial. According to The Los Angeles Times, in June 2016, Solo reportedly tried to get the case thrown out of court but did so without success. So, even as the case sits backlogged in the courts system, Solo is set to compete with the U.S. Women's Soccer Team as they try to win gold for the second summer Olympics in a row.
In 2014, Solo apologized for her alleged actions, according to The Daily Beast, issuing an apology on her Facebook to her "fans, teammates, coaches, marketing partners, and the entire U.S. Soccer and Seattle Reign FC communities for [her] involvement in a highly unfortunate incident...." According to ESPN, Solo "continued with her soccer career" and U.S. soccer allowed her to continue to play, despite the incident.
In January 2015, however, Solo was suspended from the U.S. Women's National Team for 30 days when Solo's husband, Jerramy Stevens, was charged with allegedly driving under the influence just outside of a Women's National Team training camp. Solo was reportedly in the passenger seat, according to CNN. After the suspension, Solo continued to play.
In February, fans were unclear as to whether or not Solo would be attending the Olympics after she had expressed her concerns about Zika to Sports Illustrated — and the potential harm that the virus could carry. However, three months later in May, Solo told CNBC that she would "begrudgingly" participate in the Rio Olympics, saying she would "take extra precautions."
Whatever Solo's feelings about Zika may be, she is playing in the Olympics. Fans and critics alike can, if nothing else, prepare themselves to watch as the team takes home the gold.