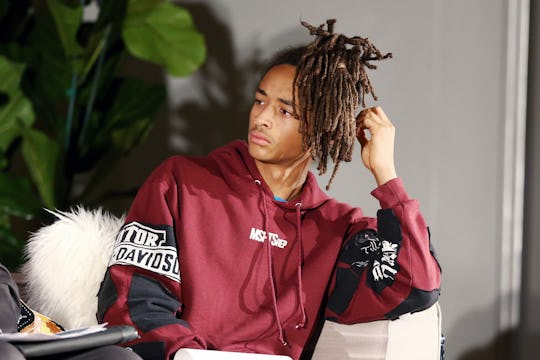 Rich Polk/Getty Images Entertainment/Getty Images
Jaden Smith's Met Gala Accessory Had Twitter Talking
The Met Gala is always a chance for fashion's elite to show off their best looks, usually sticking to a certain theme, tied to the exhibit that opens after the big party. But nothing could prepare people for Jaden Smith holding his dreadlocks at the Met Gala this year as an accessory. Seriously, only Smith could get away with a look like that and only at the Met Gala. Because people in fashion understand that kind of stuff.
The theme of gala this year is Rei Kawakubo/Comme des Garçons, celebrating the contemporary designer. This is the first time since 1983 that The Costume Institute exhibited the work of a living designer (back then it was Yves Saint Laurent) for the "party of the year," so it's a pretty big deal. In case you don't spend all day perusing W and Vogue, Kawakubo is the Japanese founder of the Comme des Garçons label, and her avant garde collections are the stuff of legend. Which is why you might have noticed many celebs in super dramatic, straight off the runway, almost costume-y gowns and outfits on the red carpet.
It's also probably why Smith decided to carry his dreadlock around with him. He didn't really explain why, so it's just something everyone will have to accept. Smith recently posted a picture of him getting his hair cut by his father, Will, so maybe there's some sort of inside joke there. In addition to the hair wand, Smith also wore the gold grill that he's been rocking recently.
If it's a little eccentric to carry around one's dreadlocks for an evening out, Smith probably fit right in. Especially since Kawakubo is known for being a character, too. According to The New York Times, she doesn't "officially" speak English but "understands more than she lets on" and will sometimes, if a person is interesting enough, speak directly to the English speaker. Talk about a total badass move (and a great way to get out of boring conversation). Matthew Schneider of The Times said of her:
She has gone into and out of favor over the years, but she has been at the forefront of important developments in fashion all along. She arrived early to ideas still potent and percolating within the fashion ecosystem: androgyny, artificiality, the pop-up shop, the luxury group...
Andrew Bolton, the curator of the 150 piece exhibit said that he was inspired by the fact that for her, "the body and the dress body have no limits." Obviously, Jaden feels the same way. Or in his case, the body hair was dress.
But that's how fashion is right? You don't have to understand it, you just have to admire it.