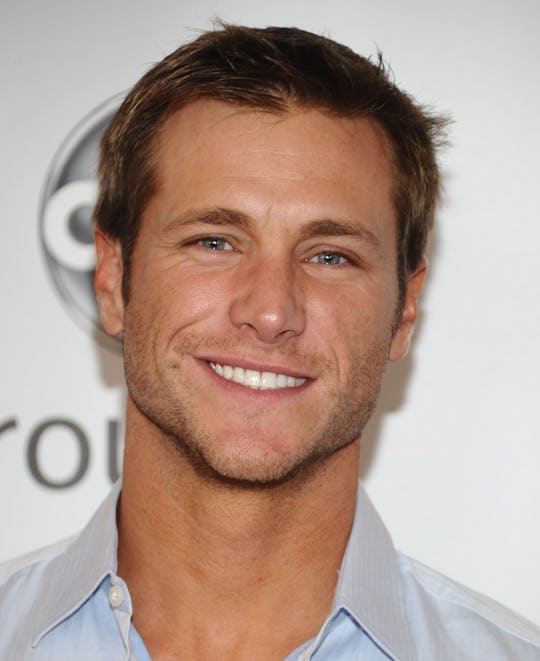 Michael Buckner/Getty Images Entertainment/Getty Images
Why Is Jake Pavelka On 'The Bachelorette' Premiere? It's Not What You Think
Everyone loves a good throwback, right? Not necessarily, especially when it comes to old becoming new on The Bachelorette. Even before JoJo took on the new role, people had a fit when Bachelorette Kaitlyn saw Nick Viall return from Andi Dorfman's season. So, imagine the confusion when a Bachelor from way back when — sorry, Jake, but it's been a while — shows up on Night 1 to surprise JoJo and her 26 gentleman callers. So, why is Jake Pavelka on The Bachelorette premiere? Well, it's not exactly what you might think.
The first rose ceremony is stressful enough, one can imagine. As if JoJo didn't have enough on her hands — a few drunk men, a couple kisses, a lot of names she probably can't remember — Jake Pavelka crashes the rose ceremony with some not-so-clutch timing. Or, maybe it's the perfect timing. Clearly, his presence is intended to put the men on edge. Is someone from JoJo's past returning for good? Is the rest of their journey pointless if someone she has so much history with joins the cast? Yeah, that's probably true, but the good news is that's totally not what's happening here. In fact, the guys can take a deep breath because things are totally going to be OK.
Upon his return, it was made to seem that the former Bachelor star was there to (maybe) try to sweep JoJo off her feet. Except, that's not what happened. Instead, Jake came to give JoJo some advice for taking the reigns of such an important show. Is Jake the most qualified to give advice? No, probably not considering how his season of The Bachelor went down. But, that's really not important, is it?
It appears that the two are friends — JoJo's brother has also dabbled in the reality dating circuit, so chances are they've run into each other before. For example, JoJo posted an Instagram tagging both Jake and her brother Ben — you remember Ben, he hated Ben on The Bachelor — which just supports that these two are old friends.
So, while it was made to seem that Jake is there to crash JoJo's rose ceremony, it really isn't that dramatic.