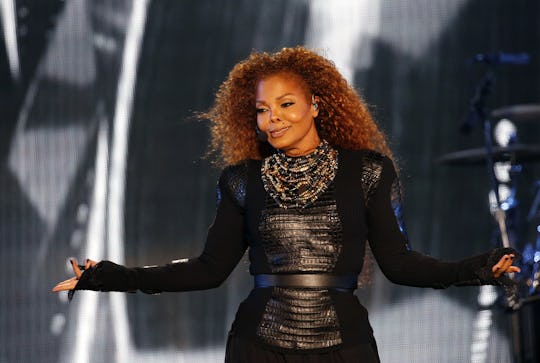 KARIM SAHIB/AFP/Getty Images
Why Is Janet Jackson Delaying Her Tour? Her Adorable Reason Has Made Fans Nothing But Understanding
Janet Jackson's Unbreakable tour, which began in August 2015, has already been postponed twice for undisclosed medical reasons. Now, the tour's been postponed for a third time, but there's a little less mystery surrounding it; in a video message posted to Facebook and Twitter on Wednesday morning, Janet Jackson announced she's delaying her tour to start a family.
After thanking fans for coming out to see the first leg of the tour, Jackson said that there's been a "sudden change." Barely containing her elation, Jackson stated, "My husband and I are planning our family." She then pleaded with fans to understand that "it's important I do this now. I have to rest up; doctor's orders." Jackson then assured fans that she'd continue the tour as soon as possible. After thanking her dancers, crew, and everyone involved with the tour, she thanked fans again, closing with "Insha'allah [God willing], I will see you soon. I love you."
Fans will undoubtedly be disappointed to miss the shows, but watching her thank her fans so graciously, it would be hard to get mad at the singer. And one can hardly blame her for not feeling up to singing and dancing for hours on end, nearly nightly, for the next four months. Who among us has the energy for that nonsense on their best day?
Those who had no idea that Jackson had a husband shouldn't feel out of the loop. Although she's been married to Qatari billionaire Wissam Al Mana since 2012, the couple is notoriously private and are rarely seen in public together; a couple of shots of them together at Paris Fashion Week was enough to spawn headlines back in October 2015. Before that, the couple's last public appearance was at the Armani 40th anniversary dinner in Italy back in April 2015. While Al Mana did speak to VMAN magazine about Jackson in 2010, when they first started dating, since then it's pretty much been radio silence. Al Mana runs the retail division of his family's empire and is apparently not interested in being a celebrity.
Jackson, too, is known for keeping her personal life, well, personal. Although she's made a rare exception to her rule, "planning our family" really doesn't reveal all that much. She doesn't actually say if she's pregnant, or undergoing fertility treatment. She may even be adopting or using a surrogate for all we know; her doctor could have told her to rest because of stress. But however and whenever this baby (or babies!) comes into the world, it'll have two clearly loving parents and a boatload of cash, which is never a bad thing. As for that tour, don't hold your breath, but at least her reason for delaying is totally understandable and pretty darn exciting.