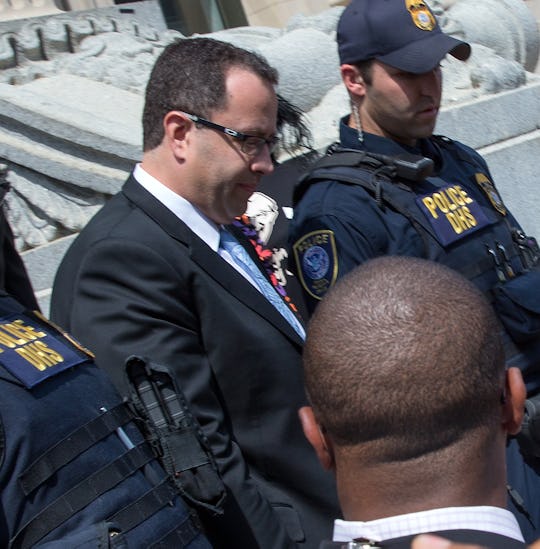 Joey Foley/Getty Images Entertainment/Getty Images
Why Is Jared Fogle's Ex-Wife Suing Subway? There Are A Few Allegations
There's more bad news concerning Subway and its ex-spokesperson Jared Fogle. On Monday, it was announced that Jared Fogle's ex-wife is suing Subway. Although she divorced the spokesman after he pled guilty to federal child pornography charges and having sex with minors, Katie McLaughlin is now alleging that the fast-food outlet reportedly knew that Fogle was a pedophile as far back as 2004. McLaughlin alleges that her and children have suffered emotionally since 2010 because the company did not come forward publicly. Had they done so, she said she never would have married him in 2010, according to the suit. Romper's requests for comment from McLaughlin's attorneys were not immediately returned. A spokesperson from Subway told Romper via email that they could not comment "as this is a pending legal action."
McLaughlin charged, "A responsible corporation would take immediate action when hearing of this behavior, even if it was only allegations. Subway failed every test of corporate responsibility in its response to each of these complaints." Instead, she said, the company buried information about Fogle in the name of increasing profits from his very successful campaign, aimed at rebranding the company as a healthy and fresh sandwich joint.
McLaughlin's suit recounts an incident in 2008 when Cindy Mill, a Subway franchisee, called Subway CEO Jack Moody to report that Fogle had her told that he "really liked them young." He also allegedly admitted that he had had sex with minors ranging from age 9 to 16 years old. Two other people also allegedly reported incidents to corporate execs at Subway, claiming that Fogle was engaged in pedophilia.
According to the suit, Moody told Mills that he had heard similar allegations but that Fogle had "met someone," a teacher (McLaughlin is a teacher) and that the company thought she would "ground him."
McLaughlin is reportedly also suing Subway for subsequently launching a campaign against childhood obesity that required Fogle to visit elementary schools, even though they allegedly knew that he was a pedophile. McLaughlin also said that the company used images of her and her family without her consent.
The lawsuit claims that Subway sent public relations to question Fogle about two of the incidents, but that the company has admitted that a third report was not properly followed up on. McLaughlin said in press conference Monday that she filed the suit because she and her two children, 3 and 5 years old, "have questions" they believe Subway can answer. She is asking for unspecified damages.
She added, "To the victims of my ex-husband, you are never far from my thoughts and prayers. I can only imagine what you have been going through. A mother's most basic instinct is to protect her children, and this is one of the most horrific of crimes."
Fogle is currently serving 15 years and eight months on federal possession or distribution of child pornography charges and for traveling across state lines with have sex with a minor. He has also had to pay each of his 14 victims $100,000. Fogle pled guilty to paying for sex with girls as young as 16 years old and receiving porn produced by Russell Taylor, the ex-head of The Jared Foundation, which Fogle started to fight childhood obesity.