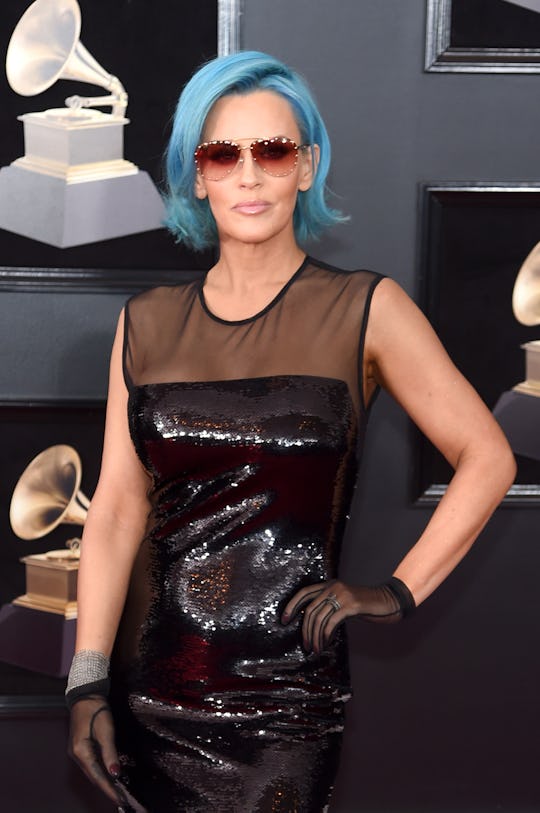 Jamie McCarthy/Getty Images Entertainment/Getty Images
This Is Why Jenny McCarthy Had Blue Hair At The Grammys
It wouldn't be a tried and true Grammy Awards without encountering a few interesting style choices on the red carpet, and this year was definitely no different. Jenny McCarthy and Donnie Wahlberg stopped by for a quick chat with E! on Sunday night and the New Year's Eve host was rocking a very colorful look on the top of her head. So why is Jenny McCarthy's hair blue at the Grammys? It definitely grabbed people's attention. However, it turns out that this particular hair color choice was done for a very good reason — and is actually business related.
"I like to change it up—I get bored a little bit," McCarthy told People on the Grammys red carpet, though she went on to add that there was another purpose for the bold look. "I'm promoting my new vodka line, it's blueberry." The vodka line she's referring to is Blondies, and since blueberry is the new flavor she wants the world to know about, she figured the best way to go about doing that was to showcase it on the top of her head. Because why not? And I have to admit, she totally rocks the look in a way that I never could.
But this isn't the first time McCarthy has rocked a bold hair style. In fact, back in 2015, she donned a hot pink look, posting a selfie on Twitter with the caption: "No #DSF today. Tune into Kathie Lee & Hoda! I've got a something to show you! #DonnieLovesJenny@klgandhoda."
Sure, that time doesn't appear to have been for a business-related venture, but still, it shows that this star enjoys changing up her appearance and having fun. Speaking of McCarthy's business venture, Blondies is actually a must-try product (if you're 21 years of age, of course). But if you need a little more convincing, I'll leave that in the hands of McCarthy herself, who is quoted as saying a few words about the vodka brand on the official Blondies website:
I am proud to say my cocktails are free from artificial flavors, dyes, have no added sugar and are gluten free. The only sophisticated cocktail made with real fruit juice and a heavy dose of ultra-premium gold medal winning vodka.
Grab a bottle, crack open, and pour over ice. Enjoy!
At first I thought maybe McCarthy's hair had something to do with an upcoming role, which is entirely possible. Many celebrities before her have changed their appearance for a part they're working on, whether it be for a movie or TV show. But alas, this appears not to be the case, though some people were trying to make a connection, even if there wasn't one to make.
Great, now I immediately need her to be in a Smurf move pronto. Can we please make that happen? Someone? Anyone? But hey, promoting your brand is just as good of a reason as any, right? And it was something that McCarthy made sure to bring up throughout her various interviews on the red carpet throughout the evening. "This is how far I go when I'm taste-testing my products," she joked with Entertainment Tonight before going on to explain about Blondies new blueberry flavor.
The hair color even made some mistake her for Katy Perry, who we all know is known for her color hairstyles as well, so I can definitely see where they were coming from.
Regardless of what you thought of McCarthy's look, there's no denying that it definitely turned some heads. Though that's always the beauty with the Grammys. You never quite know what to expect.
Check out Romper's new video series, Romper's Doula Diaries:
Watch full episodes of Romper's Doula Diaries on Facebook Watch.