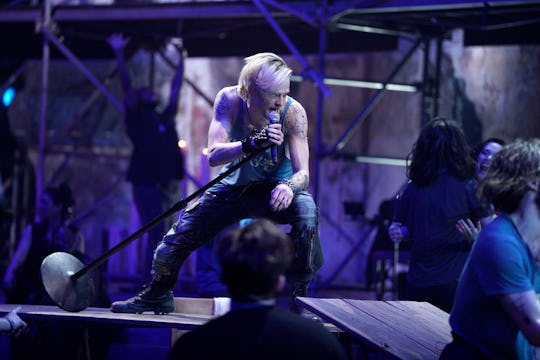 Peter Kramer/NBC
NBC's 'Jesus Christ Superstar Live!' Is Changing Up Its Format In An Interesting Way
On Easter Sunday, NBC mounted a live musical telecast of the Andrew Lloyd Webber and Tim Rice show Jesus Christ: Superstar and right from the beginning, the show had a distinctly different feel from other live musicals. So viewers may be wondering: why is Jesus Christ Superstar Live! a concert? The original musical is in written in a rock opera format without any dialogue, so a concert-style production design makes perfect sense.
Before it debuted on Broadway, the music of Jesus Christ Superstar was released as a rock concept album imagining days leading up to the crucifixion of Jesus Christ. A year later, in 1971, it was staged as a Broadway musical, but the show didn't have much success. It was adapted into a film in 1973, which was somewhat more successful and nominated for a handful of Golden Globes. The live telecast's executive producer Neil Meron said that Webber and Rice originally gave NBC their blessing because the production planned to showcase their original concept in a concert-style format. According to Vanity Fair:
They knew that our concept was to go back to that kind of stripped-down rawness that they had in the concept album," Meron said during a roundtable discussion in the church before the rehearsal. "So it's great to bring that back and focus in on that music and that visceral, rock concerty-type presentation.
The concert format also favors the skill sets of the lead performers. John Legend, who has never done professional musical theater, plays Jesus, while Sara Bareilles, who had a brief stint on Broadway in the lead role of the musical Waitress, which she wrote the music and lyrics for, plays his romantic interest, Mary Magdalene. Rock legend in his own right Alice Cooper plays King Herod. According to Broadway.com:
Alice Cooper, whose theatricality is the stuff of legend, is the perfect rock star to play Herod in our live production," said Robert Greenblatt, chairman, NBC Entertainment. "Andrew Lloyd Webber and Tim Rice wrote a show-stopping musical number for Herod and we all look forward to the 'King of Shock Rock' taking on the King of Judea. As the casting for Superstar ramps up, we can feel the excitement building for this brand-new concert experience of what has long been considered the original rock musical.
One Broadway alum is prominently featured, and that's Brandon Victor Dixon, who plays the role of Judas Iscariot. He previously played Aaron Burr in Hamilton. The live telecast filmed at the Marcy Armory in Williamsburg, Brooklyn, in front of an audience of 1500. David Leveaux, a British theater director and five-time Tony nominee, helmed the TV production, working closely with the camera director Alex Rudzinski, according to Variety.
Some folks on Twitter criticized the concert format for being distracting. It's true that the live audience reaction often clashed with the traditional applause breaks of seeing the production live on stage. But that's part of this particular live televised production's charm. The performers are mostly singers, not musical theater actors, and their appeal is in interacting with a live audience; not necessarily acting their way through a show.
Fans of the staged production griped that iconic moments of the musical were missed when screaming audience members at the Marcy Armory drowned them out, but the rock concert vibes suited most of the performers on stage. Plus, getting to see musicians play their instruments live on stage lent an element of raw musical prowess that many more traditionally designed live productions were missing. In the end, the live rock concert style suited both the show and the performers, so it's no surprise that NBC went with an untraditional musical format.
Check out Romper's new video series, Romper's Doula Diaries:
Watch full episodes of Romper's Doula Diaries on Facebook Watch.