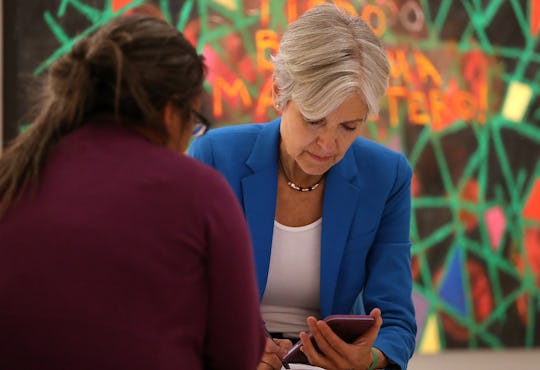 Justin Sullivan/Getty Images News/Getty Images
Why Is Jill Stein Fundraising? She's Hoping For Recounts In Several States
The results of the 2016 presidential election were, understandably, hard to swallow. It has been three weeks since the election and it has not gotten easier — the Trump administration is shaping out to be quite interesting and it is clear that Hillary Clinton won the popular vote. But why is Jill Stein fundraising? The Green Party candidate did not have as big of a shot in winning the election as the Republican and Democrat Party nominees — and yet, Stein is demanding a recount.
Green Party presidential candidate Stein is currently asking her supporters for monetary donations — not as an advance for her 2020 presidential campaign — but to help her get enough to have the votes recounted in three states. According to Stein's website, Stein is asking supporters to raise $2 million to be put towards recounts in three states — Wisconsin, Michigan, and Pennsylvania — all of which were important swing states and all of which voted for Donald Trump in this election. Stein had raised up to $327,200 around 5:30 p.m. EST, according to her donation page on Wednesday evening. Five hours later, Stein's donation total reached $1.6 million — and continued to grow. Stein needs all the money she can to meet her $2.5 million goal. According to Buzzfeed, there is a $1.1 million dollar fee in Wisconsin to file a recount, along with a $500,000 fee in Pennsylvania, and $600,000 filing fee in Michigan. The donations will reportedly be going to a good cause. According to Stein and her camp, not only will the money go towards Stein's recount but towards ensuring "election integrity" as well.
But would a recount actually help Stein? According to CNBC, it's not likely that it would. Stein received less than 1.4 million votes overall in the election — and that number pales in comparison to the 64 million votes that Clinton received. Libertarian party candidate Gary Johnson ended up coming ahead of Stein, receiving around 4.2 million votes, according to The Guardian. If this is the case, this recount in three states would more than likely not do a lot for Stein. But a recount in these three states could definitely help Hillary Clinton.
Clinton won the popular vote by almost 2 million votes, according to NBC News. And now, according to CNN, computer scientists are "urging" the Clinton campaign to "challenge the election results" — due to potential machine hacking and voter fraud. According to CNBC, Clinton would have needed to win Wisconsin, Michigan, and Pennsylvania if she was going to win the overall vote. A recount would confirm the news that Trump did indeed win the election or revise the entire election results to instead prove that Clinton was the rightful winner instead.
Stein's donations wouldn't just help Stein, they'd help Clinton, too. As Stein said on her website, "this is about more than the results of this one election. This is about protecting our democracy and ensuring that 'We the People' can have confidence in the reported results." A recount in key swing states could confirm what we already know or lift spirits and all those feelings of uneasiness leftover from Nov. 8. Stein is well on her way to meeting her $2.5 million by Friday. If Stein (and Clinton's) supporters come together to donate, it could have the potential to make a huge difference.