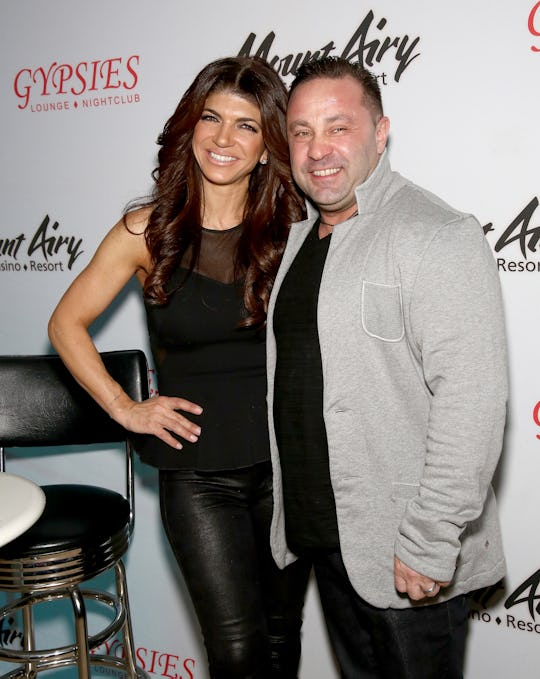 Paul Zimmerman/Getty Images Entertainment/Getty Images
Why Is Joe Giudice In Prison? He's Currently Serving His Time
It was a real shocker when news of Teresa and Joe Giudice's legal issues first broke. Run-ins with the law have cropped up on the Real Housewives before, but this was the first time a cast member was actually looking at time behind bars. Some people had suspicions that something was going on considering just how crazy Teresa and Joe's level of wealth seemed — that mansion, the shopping, the rolls of cash! — but actually going to jail was unexpected. The more likely outcome was that they would find some way to arrange a deal that allowed them to avoid the big house, but that didn't end up being the case. Teresa was recently released after serving her time, and now it's Joe's turn. But why is Joe Giudice in prison?
People reports that Joe was indicted on federal fraud charges, with thirty-nine counts in all. He was charged with conspiracy to commit fraud as well, including mail, wire, and bankruptcy fraud. Joe and Teresa were charged with making false statements on loan applications and when filing for bankruptcy, and Joe was also charged for not paying taxes from 2004 to 2008. Most of this went on before RHONJ began, though once the show started to improve their fortunes, they began to hide funds. He pled guilty in 2014 and started serving his nearly four-year sentence in March.
In 2013, after Joe and Teresa were indicted, U.S. Attorney Paul Fishman announced that, "The indictment returned today alleges the Giudices lied to the bankruptcy court, to the IRS and to a number of banks. Everyone has an obligation to tell the truth when dealing with the courts, paying their taxes and applying for loans or mortgages. That's reality."
Apparently when applying for a mortgage loan, People reports Teresa provided fake W-2 forms and false pay stubs, making it seem as though they had more income than they did. Later, when filing a petition for bankruptcy protection, the couple supposedly hid businesses they owned and disguised their true income, particularly the increase that Teresa's time on RHONJ lent it.
Though both Joe and Teresa initially plead not guilty to the charges, they eventually came clean. He was sentenced to 41 months, with an additional 18 months tacked on later that would be served concurrently, and a restitution payment of $414,588. Teresa was sentenced to 15 months (she only served 11 and a half), and was allowed to serve her time first so that Joe could remain with the children. Now that she's back, Joe is in prison, which he has referred to as "the easy part," citing the legal issues beforehand as the greater struggle.
Joe and Teresa are coping with their time apart, but their ordeal isn't over yet. After serving his time, Joe could face deportation to Italy because he is not technically a U.S. citizen. However, Teresa is hopeful for their future regardless.