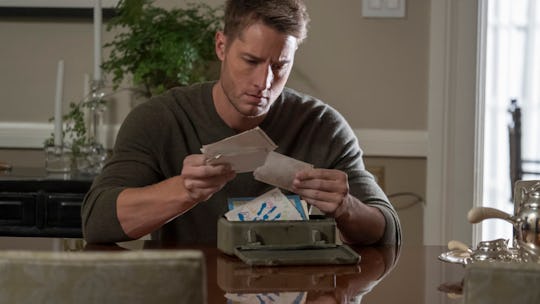 Ron Batzdorff/NBC
Kevin Visits Vietnam On 'This Is Us' For *This* Specific Reason
If you still wake up in the middle of the night with heart palpitations over Jack Pearson's untimely death, you're not alone. Mourning over World's Best TV Dad are ongoing, probably forever (sorry). But it's not the questions surrounding Jack's death that still haunt the Pearson triplets in the present timeline — it's much more than that. So why is Kevin going to Vietnam on This Is Us? Honestly, the question should be, why wouldn't he?
The Vietnam timeline has been teased since the Season 2 finale after Toby and Kate's wedding. The brief scene showed Kevin and Beth's cousin, Zoe, on a plane to Vietnam. Kevin held an old photo of Jack and fellow comrades in service gear (including his younger brother, Nicky, who Jack claimed had died during the war). It's clear Kevin knows as much as viewers — nada — and Tuesday night's promos reveal a younger Jack in full gear crouched in a helicopter while serving in Vietnam. Not much else is clear, other than Kevin's on a journey to understand who his father was and what he endured in the war. Considering how similar Kevin and Jack are, it makes sense that Kevin is the triplet to do this and honestly, I think he's the one most likely to benefit from the experience of it.
According to show creator Dan Fogelman, it's time to meet the Jack Pearson that existed before. "[Jack] had a messed-up childhood," he said. "He was not from a happy home. He had one core, loving relationship with his little brother. Then he went to Vietnam and came back (and) built himself into this man."
There's only been small bits of Jack's past revealed, especially when it comes to Vietnam and his little brother Nicky (played by Michael Angarano). You've seen Jack at his best — a doting father and flawed but dedicated husband — and you've seen glimpses of his difficult past. But there's so much viewers don't know. What shaped Jack? Whether it's the Jack who struggled with alcoholism (like his own father), the Jack who couldn't speak about his little, brother, Nicky, or the adoring family man Jack was prior to his death, Kevin's Vietnam trip is the perfect puzzle to solve.
Last week's episode gave a little insight about how Vietnam affected Jack. When a young Kevin begged for a toy war grenade Jack's reaction was a mix of shock, horror and fear — things little Kevin couldn't understand at the time. As an adult thinking back, Kevin realizes there's more to his father's story. This Tuesday's episode, which was written in conjunction with acclaimed novelist, Tim O'Brien, will focus solely on Jack's time in Vietnam. O'Brien's The Things They Carried, is said to be one of Fogelman's favorite books and provided the inspiration for Jack's storyline. So basically, this episode will probably hurt a lot (and that's why it's so great).
Milo Ventimiglia (who plays Jack) said he went into this role knowing Jack had this mysterious past. "I remember saying, 'I'm going to tuck it down my heart like Jack is [a veteran],'" he said. "The discipline, the heartbreak, the horrible stuff you see in war that you don't want to expose your family to, I'm going to plug that into his psyche."
The internal motivation shows in nearly everything Jack does after the war because it's something you can't ever really shake from your being. Fogelman weighed in saying, "You'll never see Jack completely break the façade because he is so strong and inherently good. But what a burden on the guy to be that perfect but have that much imperfect stuff that happened in his background."
Obviously you're going to see Kevin unravel the thread of what the war did to Jack and how those things changed him for better or for worse. "Jack is doing everything he can to protect his family, to not have them sullied by this war," Fogelman continued. "There's a cost to that. And part of the season is investigating that cost to all of his children."
Justin Hartley (who plays Kevin Pearson) spoke to Entertainment Weekly this summer about what's to come in Season 3 saying, "It's a healing thing for him — so he's going to get a lot of information, some stuff that he didn't know and didn't expect. And it's going to jar a few things."
Co-showrunner, Elizabeth Berger told Entertainment Tonight how exciting these Jack and Nicky episodes will be. "There's something very freeing about being past the mystery of Jack's death and moving into this new chapter and getting to tell a whole completely different kind of story."
Freeing maybe, but for longtime fans of the show (me), there will always be a bit of hopeful apprehension. Kevin's Vietnam trip was a long time coming and I'm still not ready. That's the beauty of this show. These characters go through very vivid, very real experiences that feel like your own. It makes you realize that's exactly what life is: a feeling of your heart breaking and swelling all at once.