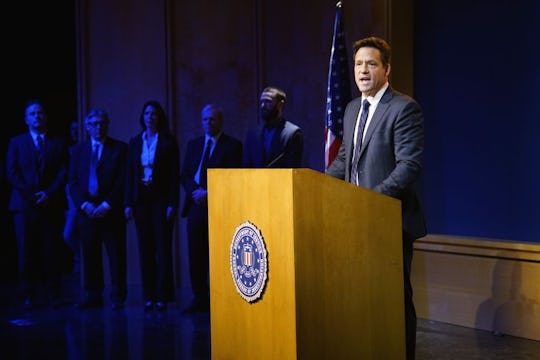 Jonathan Wenk/ABC
Why Is Liam The Terrorist On 'Quantico'? He Had A Mission All Along
The Season 1 finale of Quantico laid down the reasoning of why Liam was doing what he was doing. What was he doing you ask? Betraying his country and turning on the FBI, that's what. Within the first few minutes of the show, we learned just how Liam made all of this happen, but it wasn't until the second half of the finale did we find out why he's killed hundreds of people. Well, it seems to all be connected to a delusion. So, why did Liam become a terrorist on Quantico? In his mind, he was bringing attention to a flawed organization.
The early minutes of the episode put it all into perspective. Liam has had this planned for a very long time. Like, he might have even had it planned the second Alex walked into Quantico. At first, Liam wanted Alex to get kicked out of Quantico so she could be pegged as the disgruntle former NAT who turned into a terrorist after being kicked out of the academy. But, because Alex so rarely follows the rules, she never left. While it put a bit of a wrench in Liam's plan, he still made it work.
Liam's ways of framing Alex — and getting the other NATs to work for him — was terrifying and genius. He was spying on all of them at all times. He knew their weaknesses and preyed on their vulnerabilities. He then used those vulnerabilities to convince them they had no other option but to turn on their country. Meanwhile, Liam physically planted evidence on Alex to make it seem like she was responsible for the bomb. He got her the original apartment where Ryan was shot. He moved her body onto the site of the first attack. He just about manufactured every piece of the puzzle. But why?
According to him, he's had a plan for her all along. It was actually a pretty genius flashback to see the moments in which Liam almost hinted at him being the terrorist. From hinting that he had a plan for Alex to telling the NATs to never trust the source, it was almost a game for him.
As for the why, in a final monologue before being shot, Liam explained that he killed hundreds "to save millions. To kill the cancer that is the FBI before it takes the country with it." He named many famous instances in which he alluded to the FBI being corrupt or failing (Omaha, Martin Luther King Jr., Waco), which seemed to fuel him to cause embarrassment to the bureau that they would breed a terrorist of their own.
He told Booth that he wanted to "rebuild" the FBI, and that Michael, Alex's father, would have wanted "this." Obviously that didn't fly with Alex, who ultimately delivered the fatal shot to Liam's head, but at least he got to say his piece before he went (a.k.a., fans got to hear why he did this after an entire season).