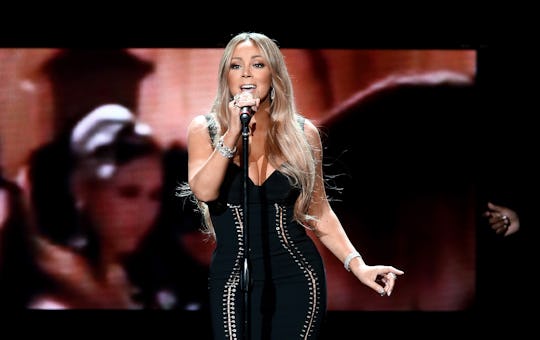 Tommaso Boddi/Getty Images Entertainment/Getty Images
Here's Why Mariah Carey Is Tackling Another New Year's Eve Performance
Whether or not you considered Mariah Carey's performance on New Year's Eve last year a success depends on what you were looking for from it. If you wanted a seamless song and dance number from a pop legend, then perhaps you were disappointed. If all you needed to welcome the new year was an amazing meme, then you probably feel differently — and you might be very curious to know that Carey will be back on that stage again this year. But why is Mariah Carey performing for New Year's Rockin' Eve, considering what happened last time?
In case you missed Carey's last appearance on New Year's Rockin' Eve, here's what happened: there was some low-energy wandering around the stage while her backup dancers did their best, but Carey did not do very much singing at all. She spent a lot time standing in one spot, either looking offstage with a vaguely annoyed expression or trying to get through one of her hits. It was really not great, and on top of that, it was panned by critics. It's a bold move for Carey to return again this year.
But it seems like Carey wants to right the wrong, so to speak. According to Variety, this year's performance will be a "redemptive" one. Carey is returning to prove that she can still turn out a flawless stage show, especially since she attributed last year's disaster to technical difficulties.
She told Rolling Stone that the situation "couldn't be helped" because production on New Year's Rockin' Eve didn't fix a problem she was having with her in-ear monitors before she got on stage. "This was out of my control, and had everything not been such a total chaotic mess, then I would have been able to make something happen," Carey said. "Even the dancers should have stopped dancing and helped me off the f**king stage. I'm sorry. It was a mess, and I blame everybody, and I blame myself for not leaving after rehearsal."
From the sounds of it, it wasn't a good experience in front of the camera or behind it, which makes Carey's return all the more curious at first glance. However, Variety reported that when Dick Clark Productions asked her back, Carey agreed right away. It seems she's truly looking to redeem herself after what happened, and the production values should reflect that. While last year was limited to some ostrich feather fans, a glittering ensemble, and a group of dancers, this year is expected to be on a much grander scale reminiscent of Carey's Las Vegas residency. Several other artists will be performing at the event as well, including Camila Cabello, Nick Jonas, and Sugarland.
Carey and Dick Clark Productions released a joint statement in which they mentioned what happened during the previous performance, but didn't get into why they were eager to team up a second time. "We can all agree that last year didn't go exactly as planned," the statement read. "And we are thrilled to move forward together to provide America with an incredible night of music and celebration on Dick Clark's New Year's Rockin' Eve With Ryan Seacreat 2018. See you in Times Square!"
It makes total sense that Carey would want to erase last year's bad memories and replace them with some better ones, but the pressure it definitely on. Everyone will be eager to see how the celebration stacks up when compared to the one that came before, but there's no reason to assume it won't go well. Carey and company will likely go out of their way to make sure that it does.
Check out Romper's new video series, Romper's Doula Diaries:
Watch full episodes of Romper's Doula Diaries on Facebook Watch.