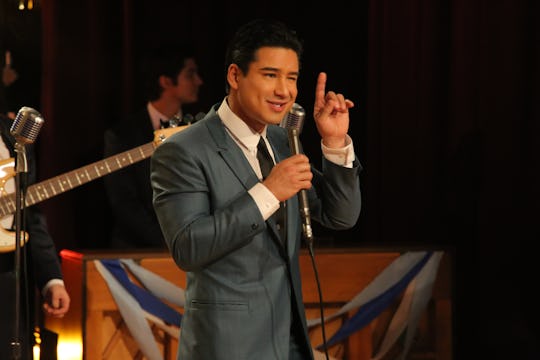 Kevin Estrada/FOX
Why Is Mario Lopez Hosting 'Grease: Live'? 'Saved By The Bell' Star Returns To High School
Grease: Live! was chock-full of familiar faces, but who was the one person viewers weren't necessarily expecting to see? Mario Lopez giving his commentary in between segments. Why is Mario Lopez hosting Grease: Live? Entertainment Weekly reported that Lopez had signed on to play Vince Fontaine — aka, the Dick Clark-esque host of the televised dance competition at Rydell High — in the 2016 musical re-boot, but it looks like the Extra host is pulling double-duty, hosting the musical itself, and offering his take on the live special. Lopez popped up just before the first commercial to do what he does best, but not everyone seemed to be pleased that he was there.
After Lopez' first appearance as host, offering his comments on what was to come, fans took to Twitter wondering what was up. Lopez seems like a great choice for hosting duties given that he is a television host in real life and also happens to be playing a television host in Grease: Live!. But tweets about Lopez mostly expressed bafflement about why he was there — or, at least, why anyone felt the need to include a host in a television musical:
Love Lopez or hate him (but seriously, how can anyone hate A.C. Slater?!), having a host is a pretty cool way to give viewers a glimpse at some of the behind-the-scenes action (so far it seems like a lot of frantic running around!). But it'll also be intriguing to see how Lopez takes on the character of Vince Fontaine later in the show. The arrival of National Bandstand at Rydell High leads to some of the most iconic dance scenes in the entire show, and having Lopez on board was a total nostalgia overload.