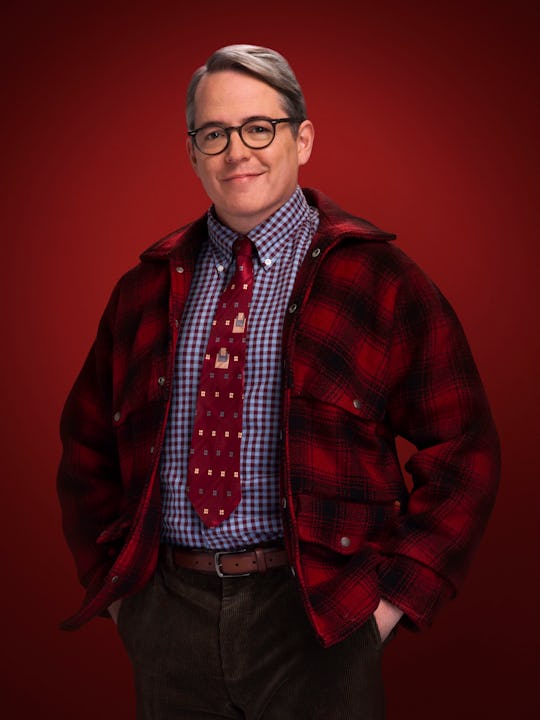 Tommy Garcia/Fox
Matthew Broderick Has An Interesting Role In FOX's 'A Christmas Story Live!'
Fox's upcoming A Christmas Story Live! has a star-studded cast that includes Tony Award-winning actor Matthew Broderick as the Narrator, who is an older version of young Ralphie looking back on a definitive Christmas from his childhood. The narrator is an omniscient presence in the film, but the casting of Broderick demands more than just a disembodied voice from the beyond. So why is Matthew Broderick narrating A Christmas Story Live! if no one gets to see him? Luckily, things are a little bit different in the musical version of the story.
A Christmas Story: The Musical made its Broadway debut in 2012, and it's the basis for the live television production premiering on Fox on Dec. 17. In the stage show, the Narrator is right there in full view with the rest of the cast, though they can't see or interact with him. He opens the show and comments on what's going on, but he's not a part of the action. In an interview with Entertainment Weekly, Broderick explained how the Narrator was present but kept at a distance in the show. He got to watch everyone rehearse even though he didn't technically get to act in scenes with anyone.
Broderick also emphasized how important the Narrator was to the vibe of A Christmas Story, though he appreciated that he got to do more than provide voiceover. "I can actually describe what I've just seen, which is kind of nice, rather than being off in a room," he said, presumably referring to the process of recording a voiceover. "It's such a big tool in the original movie in that it sets the tone of being a subversive take on Christmas."
In the same interview, his co-star Maya Rudolph reaffirmed how much they appreciated having Broderick on set with them, explaining that it helped create a deeper bond between the character and the audience. "What's nice about it is, we get to see [Broderick's] face and so it's a delightful connection to the Narrator because it actually is delivered through those interesting, charming, personable characters that the voice from beyond from the original movie doesn't [have]," she said. "I mean it has its own flavor, but it's nice that we're actually seeing all these words being spoken at us."
The original narrator of A Christmas Story was so very important because he was telling his own story. Jean Shepherd narrated the film, which was based on several stories from his book In God We Trust: All Others Pay Cash. Though his name may differ from Ralphie's, A Christmas Story was based on his childhood growing up in Hammond, Indiana. That makes it an incredibly personal story, and one that has always been filtered through the point of view of an adult looking back on past experiences. You can't really have A Christmas Story without the narrator.
However, the film had more nostalgia than Shepherd's original pieces, which he also narrated on a radio show on WOR in the mid-1950s. In a piece for Slate about the impact Shepherd's work had on him, Donald Fagen wrote that "on the radio, the true horror of helpless childhood came through," as opposed to the more bittersweet tone of the film.
Shepherd's involvement in narrating a version of his own childhood for the film makes it clear that the framing device just can't be cut from A Christmas Story no matter what medium it takes. The stage version brings the narrator to life a little bit more by keeping him in front of the audience and allowing viewers to connect to him. Luckily the production has found the perfect choice in Matthew Broderick, who knows all about breaking the fourth wall to get the audience on his side.
Check out Romper's new video series, Romper's Doula Diaries:
Watch full episodes of Romper's Doula Diaries on Facebook Watch.