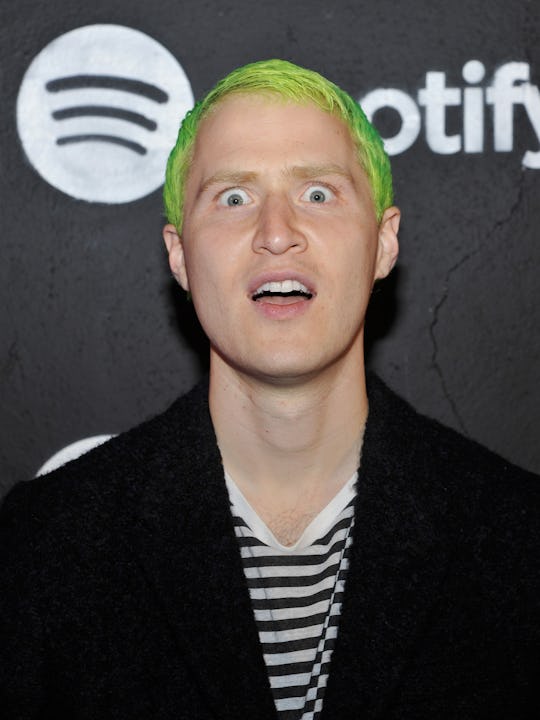 John Sciulli/Getty Images Entertainment/Getty Images
Mike Posner's Hair Color Had Twitter Talking
While it's true that a lot of people found it confusing why Mike Posner refused to directly speak to Giuliana Rancic during a red carpet interview (seriously, what was up with that), his weird behavior wasn't actually the biggest shock he delivered during Sunday night. That award goes to the neon green hair he was sporting throughout the evening. So why is Mike Posner's hair green at the 2017 Grammys? Twitter was very confused by his style choice.
According to The Detroit News, Posner's hair is currently dyed this shocking shade of green for the Mansionz project, which is a collaboration with his fellow writer-producer blackbear. However, he also revealed to iHeart Radio back in 2016 that his favorite color as a child used to be "Jungle Green," so maybe that has something to do with that specific color choice as well, in a nod to his youth. Nevertheless, it quickly became the talk of the internet since many viewers were very confused about why the singer was quite literally turning green for no obvious reason. So what do Twitter users do when they don't understand something? They start having a bit of social media fun with it by making all sorts of comparisons.
Yes, it didn't take long for Posner's hair to start being compared to Jared Leto's Joker ensemble in Suicide Squad. And to be honest, it's a pretty accurate comparison since the color is so striking you can't help but pay attention to it. But even though some of you may be very perplexed with this style choice and maybe even found the singer to be unrecognizable, take comfort in knowing that you are not alone. Others were just as curious about the green tinge as you were and have been ever since he started donning the shocking color.
So yeah, Posner may have dyed his hair for a very specific reason having to do with his latest music project, but it sure had the added benefit of giving him a lot of extra attention at the Grammy Awards, which is never a bad thing, right? I mean, the Grammys really is the perfect place to let your freak fashion style fly in the best way possible and Posner made sure to take full advantage of that fact. He was the talk of the red carpet and quite honestly, I don't think he'd have it any other way.